Cole Poppell Swoops for the last time as the student body VP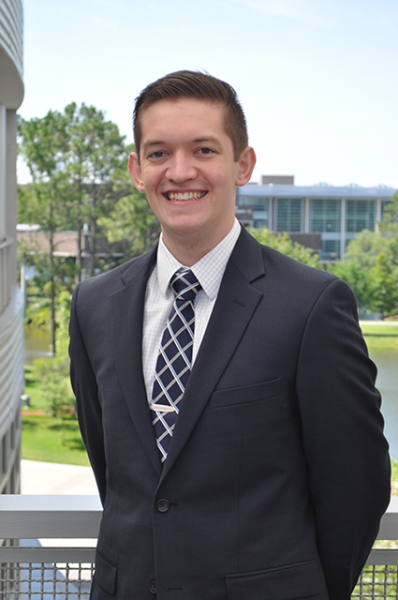 Vice President Cole Poppell, who has dedicated his time to Student Government for over two years, walked through the halls of SG for the last time Friday, Oct. 6. He said being a part of SG has been the "greatest" experience he has had at UNF, and he enjoyed working with the professional student staff.
On Monday, Oct. 9, Poppell will be starting a new position in the private sector. He said that without Student Government, he would not have gotten to where he is today and feels he has gained experience and has learned so much by getting involved.
Poppell said working in a professional office environment has been helpful in preparing him for his future. He is pursuing a career in Business Management or Political Science.
"It's really a comprehensive and total growth experience that you get to have while you are in Student Government," Poppell said.  
According to Poppell, the mission Student Government has is to help individuals grow into professionals who have the knowledge and experience to be major contributions to the workforce. However, more importantly to the former vice president, SG should serve the student body, not selfish goals or political agendas.  
Poppell recalls his favorite accomplishment in SG as the smoke-free resolution, which was in play before he got involved in SG. He was part of the process that got the resolution passed.
When the smoke-free resolution was originally presented to VP of Governmental Affairs, Janet Owen and the university general counsel, Poppell said it was turned down citing that state law preempted the enforcement of the resolution. It was frustrating to have something with over two years of work behind it come to a halt, but according to Poppell, times of frustration are common among any office environment.
Frustration has not slowed Poppell though. Even in his last moments with Student Government, he is still trying to have the resolution enforced. Poppell said SG is working with Governmental Affairs to figure out ways to lobby to legislation, and the goal is to get state universities and colleges added to the law that would allow them to enforce a "no smoking" rule.
Poppell said he enjoyed his roles as Student Advocate and Vice President the most. Although, he holds his initial role in the Judicial Branch close to him because it was the start of his involvement in SG.
As Student Advocate, Poppell was able to follow his passion for helping students. Students came to him with a variety of complaints about academics or parking, and he helped them acquire what they needed from the university system.
As the Vice President, Poppell enjoyed working with all the agencies on campus. He said the agencies, like Lend-a-Wing, Osprey Productions, and Club Alliance have many amazing things planned for the future.
Although Poppell is leaving, he believes that the current SG body is capable of running things smoothly through the transition period. He said the help of the professional staff is important and beneficial in keeping things moving, as they remain a constant throughout the many administrations.
Poppell recommends other students get involved in SG. He said it is a great opportunity. However, this term's elections for a position in senate are now closed. He also recommends students get involved with the agencies, which offer many volunteering opportunities.
Poppell's hopes for SG is that they continue to serve students to the best of their ability, without political or selfish goals, because they are there to represent over 16,600 students.
__
For more information or news tips, or if you see an error in this story or have any compliments or concerns, contact [email protected].