500 individuals recommended to be the next president of UNF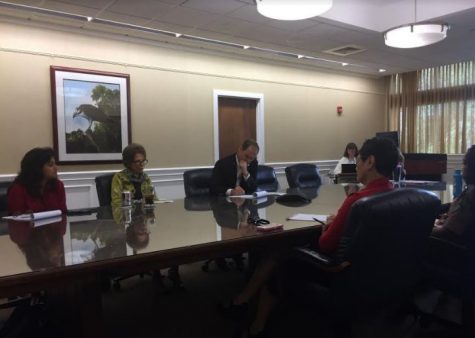 The Executive Search Firm discussed possible candidates with the Presidential Search Committee on Oct. 12. Kevin Hyde, head of the Presidential Search Committee, held a meeting to get an update from Parker Executive Search for possible presidential candidates.
Laurie C. Wilder, president of the search firm, was on the phone to give the update to the Search Committee. After finalizing the official description for candidates on Sept. 26, the search firm started advertisements for announcing the open position for the UNF Presidency.
So far, 500 individuals have been found through recommendations and direct contact. Out of 92 nominations, 70 of them came from pamphlets and 22 contacted the firm directly by phone. 54 individuals declined to be a candidate due to not being interested in the position or relocation.
Parker Executive Search is also looking for non-traditional candidates that have commitments to the city region or state, and may come from industries other than higher education. The search is in full swing and Wilder expects to see more candidates for the next several weeks.
"We're finally doing this," Hyde, as he heard the news about the new candidates.
On Nov. 16, a meeting will be held to discuss the feedback quality of the candidates. Feb.1 is when candidate materials will be posted for review. The selection meeting will be held as well. Interviews will commence from February 6-7 and on Feb. 12, final interviews will be held.
__
For more information or news tips, or if you see an error in this story or have any compliments or concerns, contact [email protected].