North Florida Women's Cross Country wins ASUN Championship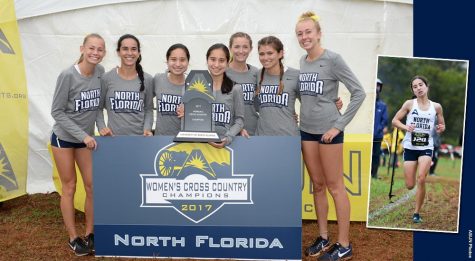 For the second time in school history, the women's cross country team has won the ASUN Championship.
Powerhouse senior Eden Meyer won the 5k race by 44 seconds with a time of 17:03. With her fall season performance, she won her second-straight ASUN Runner of the Year award.
She wouldn't be alone in earning accolades.
With a time of 17:48, Claudia Jalon, a senior, finished in third place and earned a personal record. She was selected to be a part of the first team All-ASUN with Meyer.
Audrey Carpenter, a junior, gained a personal record and finished 11th with teammate Grace Meyer, a senior, not too far behind in 13th place. The duo earned spots on the second team All-ASUN. Sophomore Skye Zeller earned 15th place for a personal best.
Cross country head coach Jeff Pigg earned the women's ASUN Coach of the Year. This honor is his second with the previous being for the men in 2016.
Pigg made sure to put the team before himself.
"It was so thrilling to the get the victory because these girls are very close and such a great group of young ladies and that makes the championship even sweeter,"Pigg said.
Pigg wanted to take the opportunity of winning Coach of the year to honor his sister.
"I want to dedicate this title and award to my sister, Stacey Martin, who is the toughest girl I know and has been battling through some extremely tough times the last few weeks," Pigg said.
North Florida women's cross country will  be competing at the NCAA South Regional meet in Tuscaloosa, Ala. on Nov. 10.
__
For more information or news tips, or if you see an error in this story or have any compliments or concerns, contact [email protected].