All UNF Greek life social events suspended indefinitely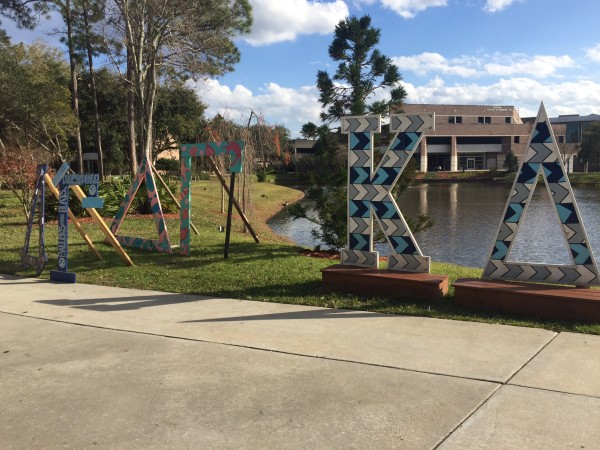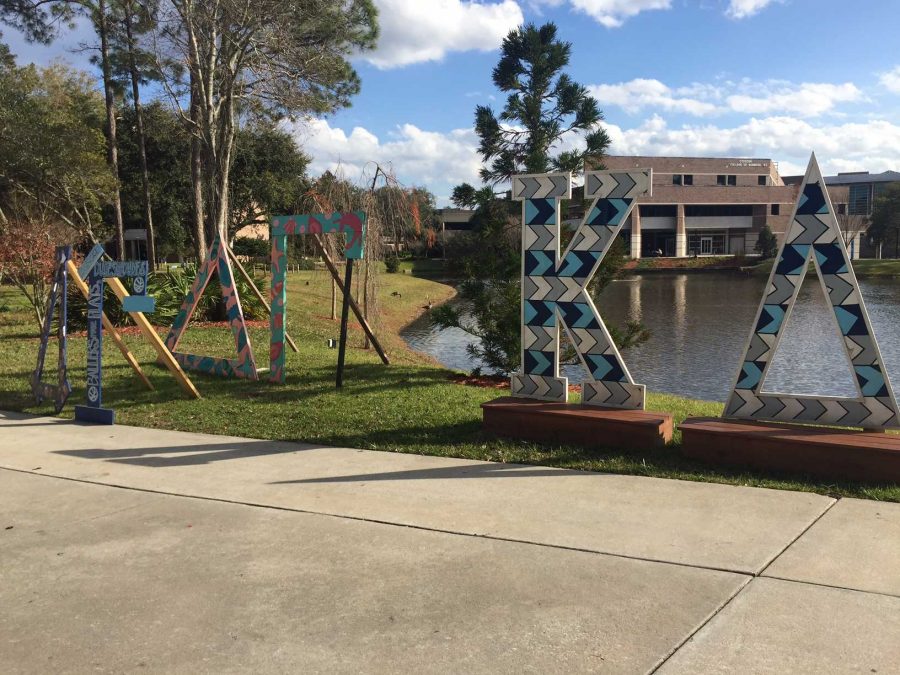 ***UPDATE 12/5: 
President Delaney and other UNF representatives met Tuesday with fraternity/sorority council members to discuss the state of Greek life at UNF and their proposed "suspension of all social events."
It's since been clarified that this means the suspension of alcohol at Greek events for two months, not the suspension of all Greek activities. According to a message Delaney sent out about the meeting, this suspension of alcohol wasn't based on an isolated event, but on "inappropriate behavior" at some Greek events.
---
All Greek social events have been indefinitely suspended at the University of North Florida according to a letter from the University of North Florida Council Presidents. These social events include parties, tailgates, formals, socials and more.
UNF's four council presidents decided to suspend these community events in order to provide a safer environment due to "the current state of Greek life in both Florida and the nation as a whole."
Last month, Florida State University suspended all Greek life in response to a Pi Kappa Phi pledge who died during an all-night drinking binge at the fraternity's social event.
This wasn't the only negative Greek life incident that occurred this year. A similar incident involving the death of a Phi Kappa Psi pledge occurred at Texas State University. This also led to the suspension of all Greek life at that university.
"We recognize our community's room for improvement and would like to take proactive steps to ensure the safety and longevity of fraternity and sorority life at the University of North Florida," the letter reads.
If a sorority or fraternity at UNF is found to host any kind of social event, the letter states it will result in "immediate cease-and-desist of all offending chapter operations." Basically meaning, all chapter operations will be shut down immediately.
Students haven't been too happy so far on Twitter. One student used the hashtag #doubledown as this occurred during finals week, and another posted the university was "kicking us while we are down."
Damn UNF Greek life suspended during finals #doubledown

— Josh (@joshtbrwn) December 5, 2017
damn unf dropping this greek life suspension during finals week, kicking us while we're down

— muriel (@murielangela) December 5, 2017
Several students commented on Twitter saying Greek life was the only thing the university really had, and that attendance to UNF events are going to dramatically decrease. One even joked saying she was going to drop out.
literally if you "suspend" Greek life at UNF that is all our school has lmao

— andrew dzoba (@Falcon8334) December 5, 2017
alright UNF…. no football team, now no Greek life???? I'm dropping out

— That's so rachel (@Rach_Reinheimer) December 5, 2017
The council is made up by the Interfraternity Council President Mark Favia, Multicultural Greek Council President Danielle Maignant, National Pan-Hellenic Council President Jas Chung-Campbell and Panhellenic Council President Brenna St Pierre . No comment has been made by any of the four council presidents. The suspension is expected to continue for a portion of the spring semester.
"We know that our chapters may view this as a punishment, but we assure you that this reformed approach will result in a stronger and safer community."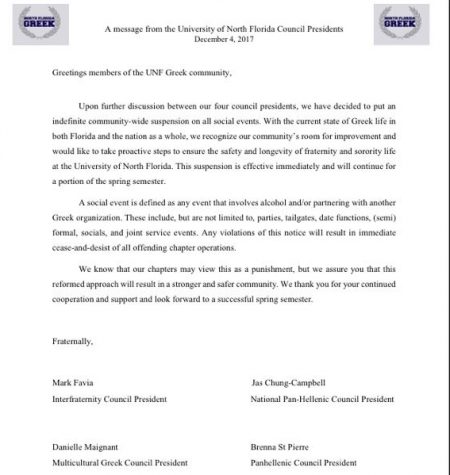 __
For more information or news tips, or if you see an error in this story or have any compliments or concerns, contact [email protected].