Women's basketball fall to Lipscomb
Slideshow by Joslyn Simmons 
In a sloppy game filled with turnovers, the North Florida women's basketball team (8-10 overall, 1-2  ASUN) fell to the Lipscomb Bisons, 73-69.
In the first quarter, early turnovers by the Ospreys led to quick baskets for Lipscomb (6-12 overall, 2-1  ASUN).  Despite struggles with the offense, UNF got early bench production.
Arianna Emanuel-Wright scored 5 points to keep the game within reach, and finished with 14 games for the night.
"Watching the game off the bench, I've seen the energy was kinda down," said Emanuel-Wright.  "I was just thinking to just bring energy [on] offense and defense."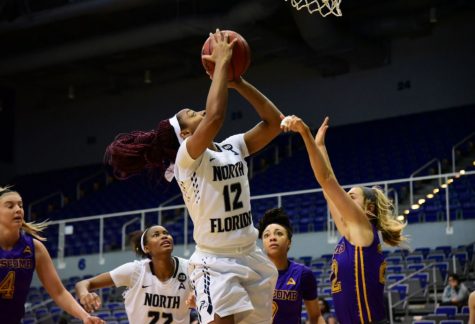 In the second quarter, UNF responded with a strong defensive performance, and held Lipscomb to 33 percent shooting from the field. The Ospreys capitalized off of turnovers, and outscored the Lady Bisons 20 to 11 . The Ospreys held on to a two point lead, 33-31, at the break.
Coming out of halftime, UNF was held to only eight points while Lipscomb extended their lead by 10.  The Ospreys once again struggled to beat the zone while committing sloppy turnovers.
Late defensive rotations lead to an 18-point outburst by the Bisons. The Ospreys worked to claw back with bench points from Tesh Hanson. With back-to-back baskets, Hanson cut the deficit to nine.
In the final quarter, North Florida responded with a desperate rally only to come up short in the end as the time expired. The Ospreys continued to see a relentless attacks to the rim from Lipscomb guards Loren Cagle and Lauren Rau in the final minutes of the game despite heroic efforts from the Ospreys.
North Florida finished the night outscoring Lipscomb in bench points, second-chance points, and points off turnovers, but poor shooting and turnovers doomed the home team.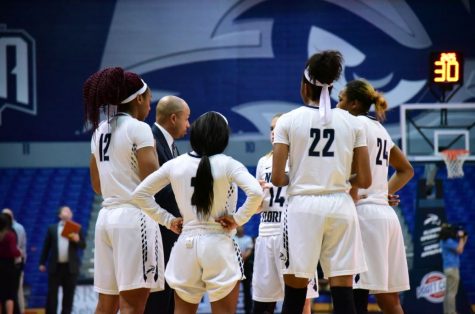 Head Coach Darrick Gibbs reflected on what went wrong against Lipscomb.
"We had moments where I thought we were good," said Gibbs. "Offensively we're in a good spot, [we] had too many turnovers though against the zone. I think we [weren't] aggressive enough against the zone, and we didn't pound the paint against the zone."
Cagle scored 31 while leading three other Bisons who were also in double figures.
"A really good point guard in Cagle,"Gibbs said."We didn't do enough to make it difficult or to get her off the groove she was in. [I] give hats off to her. "
Farmer finished with 21 while leading three other Ospreys in double figures.
"We just gotta come out playing defense from the beginning to end," said Farmer. "I think the biggest thing we learned is that we got stop playing from behind."
The women's basketball team will head on the road and face off  against the USC Upstate  on Jan. 20.
__
For more information or news tips, or if you see an error in this story or have any compliments or concerns, contact [email protected].