NJIT spoils North Florida's senior day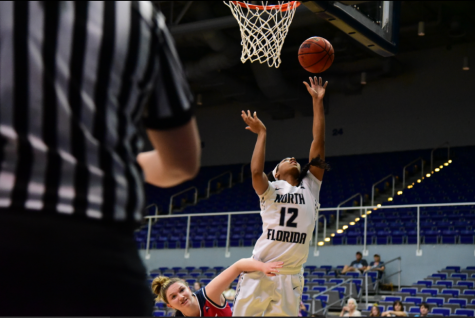 The women's basketball team (11-16 Overall, 4-8 ASUN) had their Homecoming spoiled by the New Jersey Institute of Technology Highlanders (4-23 Overall, 2-10 ASUN),  66-62 on Feb.17.
A scrappy NJIT team and crucial misses left a bitter taste for North Florida with two games left in the regular season. Head Coach Darrick Gibbs summed what made a difference between how the two teams performed.
"I think we came out not as aggressive as we needed to be; they did," Gibbs said.
In the opening quarter, the Ospreys jumped out to a quick five-point lead following a basket from Keonna Farmer combined with a three-pointer from Tiffany Tolbert. NJIT responded with a pair of baskets from Ellen Stoll and Jillian Libby. Later in that quarter, neither team could establish a clear lead. The score remained close as North Florida and NJIT began to trade baskets. NJIT ended the quarter with a slim 19-16 lead.
The Highlanders created some separation from the Ospreys in the second quarter following consistent baskets from Tatiana Torres. North Florida struggled to make most of their high percentage shots and committed some turnovers, which helped NJIT. Physical play from the Highlanders forced the Ospreys to take some uncomfortable shots.
North Florida were down by as many as 12 before a second chance effort from Tesh Hanson and a seven point swing from Adrienne Jackson brought the deficit to single digits. However, North Florida headed into the break still down, 34-28.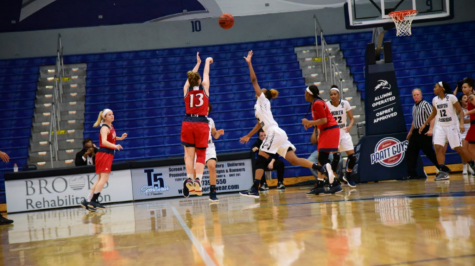 Coming out of halftime, the Highlanders distanced themselves again, and knocked down a pair of threes following missed shots from the Ospreys. NJIT's physical play on defense made scoring very difficult for North Florida  again. Buckets from Hanson, Tolbert, Jackson and Farmer brought the deficit back down within three points before NJIT's Ellyn Stoll squeezed in a three before time expired for the third quarter.
In the final quarter, NJIT went on another shooting stretch increasing their lead to as many as 10. Once again, the Ospreys battled back despite shooting almost 30 percent in the second half. The deficit was brought down to 3 points in favor of the Highlanders.  NJIT held on for the win after North Florida could not convert a much needed three pointer to tie the game with 12 seconds left in the game.

NJIT Guard Kelly Guarino scored 24 points for the Highlanders while two other players in double figures. For the Ospreys, Tiffany Tolbert scored 19 points while leading two other Ospreys in double figures. Farmer posted a double-double performance of 15 points and 19 rebounds.
"It was extremely frustrating in the first half," Farmer said. "In the second half, I realized that I did not have that many fouls and I wasn't really scoring so I had to generate points and opportunities for us."
The women's basketball team will stay home and face USC Upstate (10-18 Overall, 5-8 ASUN) in their final home game of the regular season at the UNF Arena on Feb. 20 at 7 p.m.
Photo Gallery by Cody Hagerty