Behind the Badge: UPD Chief reads to preschoolers
Hang on for a minute...we're trying to find some more stories you might like.
Video by Jas Chung
"Don't you want a sticker?" Chief Mackesy asked the room of excitable preschool children. "If you want a sticker, you've got to sit criss-cross applesauce! You can't say no to the teacher, that would be mean!"
All of the kids in the classroom cheered at the mention of stickers. Then, immediately settled into quiet anticipation as asked. After all, their favorite police chief was about to read to them.
The preschool children of the UNF Preschool have come to expect the presence of UNFPD Chief Frank Mackesy on the first Wednesday of every month. Chief Mackesy has been regularly visiting for three years now, and the kids simply know him as "Chief Frank."
There are four different preschool classrooms, but two classes combine at a time since Mackesy can only make two stops during his visit and still wants to read to as many kids as possible. He usually reads children's books that allow him to educate the kids on various topics of safety. This time, for instance, the chief read three fun books centered around traffic safety.
"Stop," "The Traffic Light" and "Don't Walk, Walk" were on the reading agenda, and he asked the children to cheer the loudest for the one they wanted to hear the first.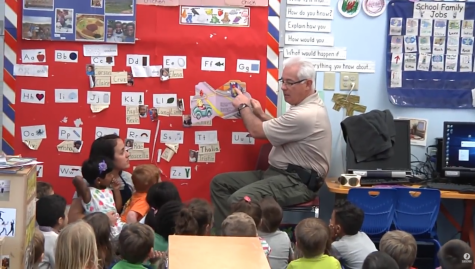 In one classroom, some of the more curious kids even took the opportunity to try to chat with Mackesy between books.
"Purple light means dance party!" one of the little girls yelled in response to the traffic light book. "But, we don't have purple lights!" Mackesy responded humorously.
"I want to be a police chief when I grow up!" declared another child, prompting many of the other kids to respond in a loud chorus of "Me too!"
Working to return their attention to the stories, Mackesy asked the kids if they knew how to cross the street.
"You have to look both ways, but I think you have to look three times," he said, demonstrating how to check the traffic before walking.
Finally, Mackesy managed to get through all three books and a barrage of eager questions, meaning it was time for him to take his leave and return to the police station… But not without first handing out the promised stickers.
The kind of group hug that can warm even the coldest of hearts then ensued. The children rushed at Chief Mackesy's legs, and Mackesy himself, laughing joyously, tried to maintain his standing balance.
"It puts a face on being a police officer to them, which is important," Mackesy said. "Getting to interact with them; getting them to cheer and laugh, is my favorite part."
—
For more information or news tips, or if you see an error in this story or have any compliments or concerns, contact [email protected].