Ospreys fall to Dolphins 4-3 in round two of ASUN Tournament
UNF and JU battled throughout all nine innings, but the Dolphin's pitching prevailed with a dominant start from Spencer Stockton.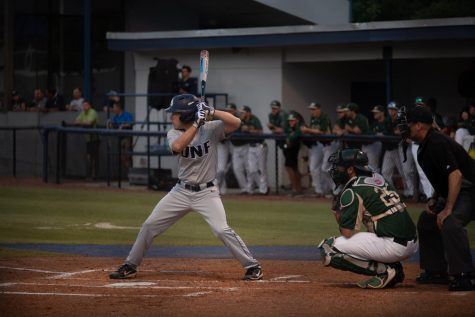 The Dolphins opened up the scoring in the first inning when Angel Camacho drove in Ruben Someillan on a RBI single to right field. The Ospreys countered in the third inning when Chris Berry lined a single to right field which scored Chris Matthias. Blake Voyles later plated Dalton Board with a single to left, giving the Ospreys a 2-1 lead. The Dolphins answered in the third with a sac fly to left by Someillan which scored Hunter, tying the game at 2. In the fifth, Chris Gau, who was the starting pitcher for the Dolphins in game one of the tournament, recorded a pinch hit bloop single to left that scored Scott Dubrule, Dolphins led 3-2.  
In the eighth, Franco Guardascione connected with a solo home run to left center, padding the lead to 4-2 Dolphins. The Ospreys came close to tying the game in the bottom of the ninth. Raff Libunao had a pinch hit RBI double that scored Jay Prather. The tying run, Alex Hendricks, was tagged out on a close play at home.
On the mound for the Ospreys, Austin Drury took the loss, hurling four and two thirds innings, allowing three earned runs, with five walks and five punch-outs. For the Dolphins, Spencer Stockton earned his eighth win of the season, throwing for eight and a third innings, allowing three earned runs, seven hits, and three strikeouts. Chris Mauloni shut the door for his 20th save of the season.
At the plate, Mac Wison extended his games reached on base streak to 14 games, a new team high. Jay Prather was the only hitter in the lineup to have a multi-hit game (2). Chris Berry, Blake Voyles, and Raff Libunao all drove in runs. With that RBI single, Voyles has reached base safely in 12 straight games. He's also batting .500 in the tournament with three RBI's.
With the loss last night, the Ospreys are now in the loser's bracket, they now play Lipscomb in an elimination game on Friday, May 25 at 3 p.m. If the Ospreys win, they advance to Friday night's elimination game with a 7 p.m. first pitch against the loser of No.1 Stetson vs No. 2 Jacksonville, slated for 11 a.m. on Friday.
Photos by Lili Weinstein