Hatters shut out Ospreys, 6-0, to win ASUN Championship
A dominant start by Mitchell Senger fueled the Hatters to defeat the Ospreys
Stetson had an explosive first inning when Mike Spooner plated the first run of the game on a RBI double. The runs kept pouring on as Eric Foggo and Austin Hale each collected two RBI's, giving the Hatters a 5-0 lead. The Hatters scored in the second on a RBI single by Brooks Wilson. The Ospreys could not find a way throughout the game to score due to Mitchell Senger's dominant performance. Senger had a complete game shutout, allowing three hits and striking out six.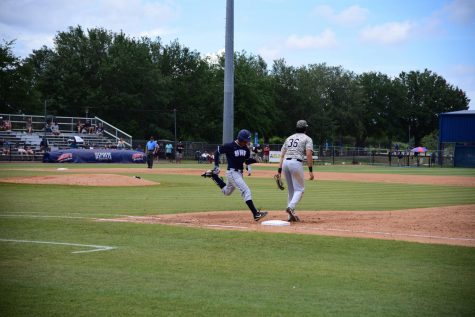 At The Mound
Cooper Bradford had a brief start for the Ospreys, pitching for two thirds of an inning, allowing five earned runs. Eddie Miller came in for relief and pitched two thirds, allowing a hit and an unearned run. Matt Vaka was called on to replace Miller and had a solid performance, pitching four and two thirds shutout innings of one hit ball for his final outing of his collegiate career. Throughout the tournament, Vaka had an incredible performance in relief, throwing seven and two thirds shutout innings and only allowing three hits. Adam Polansky pitched the last two innings, not allowing a single run to finish his collegiate career.
At The Plate
Mac Wilson, Chris Berry, and Dalton Board each recorded a hit for the Ospreys. Wilson's single extended his games reached on base streak to 17.
The Ospreys had a memorable run in the ASUN Tournament highlighted by a late comeback in the eighth to beat Lipscomb in the third game, defeating JU in the river city rumble rematch, and making the ASUN finals for the first time since 2015. This season, Frank German, Blake Voyles, and Tanner Murphy were named to First Team All-Conference, Murphy was also named to the All-Academic team.
With standout players like Golden Spikes semifinalist Frank German, Sophomore slugger Tanner Murphy, and outfielder Wesley Weeks returning next season, the Ospreys will be a force to be reckoned with come 2018-19.
Photos by Khorri Newton
—
For more information or news tips, or if you see an error in this story or have any compliments or concerns, contact [email protected].