Armada defeat Miami United FC to advance to NPSL finals
With a crowd of 2,044 fans in attendance at Hodges Stadium, the Jacksonville Armada put on a show, defeating Miami United FC 4-1.
The first goal by Armada midfielder, J.C. Banks, was assisted by UNF alum, Josh Castellanos.
"I knew Banks was going to make a run in the box and I knew the defender was going to try to intercept it," Castellanos said. "I tried to act like I was going around him but played on the inside of him and tried to put it on J.C.'s foot and give him a chance to score."
That was Castellanos' second assist of the season.
The Armada used an own goal by Miami United FC to their advantage and the team captain, Ciaran Kilduff, tacked on two more goals to extend the lead to 4-1. This was the first win for a Jacksonville professional soccer team since 1983.
Former UNF midfielder, Micah Smoak was recently added to the Armada roster and talked to Spinnaker about playing at his old stomping grounds.
"It's pretty awesome, same stadium," Smoak said. "I see a lot of the same people in the crowd. It's pretty cool to play at this stadium, I've been here for a while."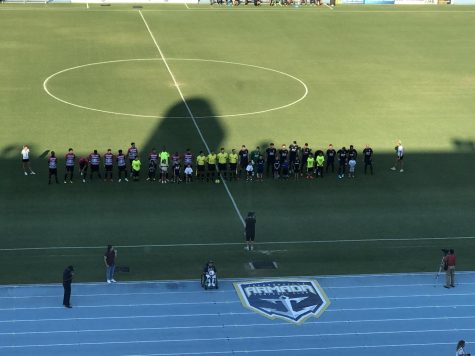 The Armada goes head to head with Miami FC for the NPSL championship on Saturday July 14 in Miami.
—
For more information or news tips, or if you see an error in this story or have any compliments or concerns, contact [email protected].