UNF Volleyball wins one of two in final day of tournament
Drew McDonald and DeAndre Pearson
September 9, 2018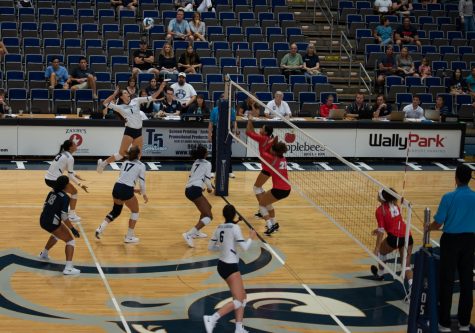 Match 1
On Sept. 8, the Ospreys (2-7 Overall) found their stride and grabbed their first home win of the season over the USC Upstate Spartans (1-8 Overall). North Florida was able to build momentum and bounce back against a tough Spartans team.
In the opening set, both teams struggled to get their offense going. North Florida was able to piece something together late to take the first set, 25-19.  
In the second set, the Spartans scrapped for every point and held on to the lead from start to finish. USC Upstate defeated the Ospreys to even the score, 25-23. In the following set, North Florida showed their resilience and fought from behind to grab the third set from the Spartans, 25-23.
During the final set, North Florida simply imposed their will over the Spartans to close out the game and take their first home win, 25-17.
Some marquee players for the Ospreys were Freshman Solimar Cestero and Junior Taryn Griffey, who each racked up 12 kills. Redshirt-Sophomore Gabby O'Connell put on a double-double performance with 13 kills and 18 digs. Senior Madilyn McCarty followed suit with a performance of 44 assists and 11 digs throughout the sets. Jacksonville native Asante Lopez held down the Ospreys with 22 digs throughout the sets.
Match 2
The Ospreys struggled in their second match on Saturday against the Forman Paladins.
In the first set, Junior Taryn Griffey hammered down five kills to lead the Ospreys to a set one victory, 26-24.
In the second set, Furman was firing on all cylinders, as their hitting percentage of .341 was good enough to defeat the Ospreys, 25-19.
In the third set, Furman continued their momentum by connecting on 17 kills as they won, 25-19.
In the fourth set, the Ospreys attempted a late comeback but the Paladins were able to dial in and win 25-18 and the match 3-1.
Junior Taryn Griffey recorded 15 kills, Senior Madilyn McCarty setup 37 assists and Freshman Solimar Cestero knocked out 12 kills on Saturday night, Sept. 8.
The next match for the Ospreys is on Monday, Sept. 10 at 6 p.m. back at UNF Arena against North Dakota.
—
For more information or news tips, or if you see an error in this story or have any compliments or concerns, contact [email protected].