Ospreys Volleyball winless in weekend series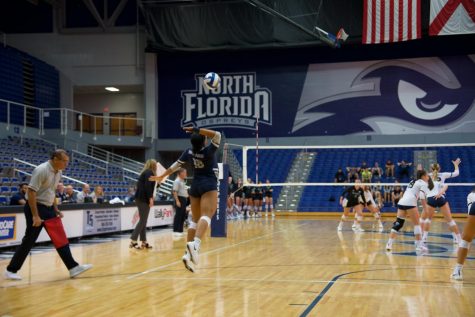 In their second conference game of the season, North Florida (5-12 Overall, 0-2 ASUN) lost at home to the Florida Gulf Coast Eagles (9-5 Overall, 2-0 ASUN) in three sets. The Ospreys found themselves fighting from behind early and often.
In the first set, the Eagles jumped out to an early lead. By the first media timeout, FGCU led the Ospreys, 15-7. North Florida would begin a slow but steady comeback, bringing the score to 24-20. FGCU would emphatically end the comeback to take the first set.
The second and third set echoed the same outcome as the first set. FGCU ended the night early with a three-set sweep.
"We have a lot to work on," Volleyball Coach Kristen Wright said. "Right now we're building a program, some things take a little more time."
Redshirt-Sophomore Gabby O'Connell finished the night leading the Ospreys with 11 kills, one block and seven digs. Junior Taryn Griffey chipped in with nine kills and four blocks. Senior Madilyn McCarty finished with three blocks and 24 assists.
In a quick turnaround from facing FGCU, North Florida (5-13 Overall, 0-2 ASUN) lost again at home to the University of South Florida Bulls (11-3 Overall, 0-1 AAC) in three sets. Despite a spirited effort, service errors and miscues ruined the Ospreys chances.
In the first set, both teams came out with a slow start. Soon after, the Bulls were able to get their offense going and pressure the Ospreys with a barrage of powerful strikes. By the first media timeout, USF led the Ospreys, 15-12. North Florida mounted a steady comeback, but fell short. USF grabbed the first set, 25-20.
The second and third set mirrored the first set. The Bulls were able to take advantage of North Florida's miscues. North Florida ended their afternoon with too many unforced errors, according to Wright.
"That was the difference between us and USF," she added.
According to UNF Athletics, O'Connell led the Ospreys with 12 kills, two assists and seven digs. Griffey chipped in with seven kills and two blocks. Following this weekend's performance, Griffey now has eclipsed 200 kills. McCarty finished with seven kills, 11 digs, and 27 assists. Sophomore Callie Workman also had 13 digs.
North Florida will stay home and face the crosstown rival Jacksonville University (1-14 Overall, 0-3 ASUN) in a River City Rumble matchup  on Tuesday, Sept. 25 at 6 p.m. at the UNF Arena.
—
For more information or news tips, or if you see an error in this story or have any compliments or concerns, contact [email protected].