Scott's two goals lifts Ospreys to 2-1 victory against JU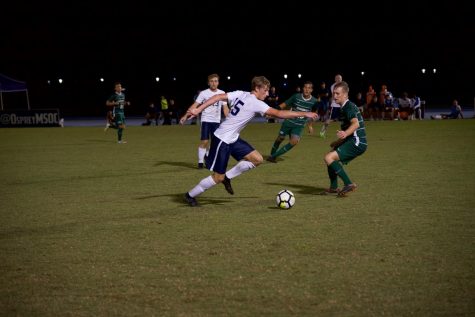 Colin Scott's career night propelled the Ospreys (3-8-0, 2-1 ASUN) attack against the Dolphins(2-10-0, 2-1 ASUN) to win, 2-1, and take home the Dennis Viollet Cup. 
First Half
The Ospreys defense was lockdown, allowing a minuscule two shots by the Dolphins.
Right from kickoff, North Florida's attack was aggressive as the Ospreys fired 12 shots, three on goal.
Great Scott
In the seventh minute, Scott connected on a shot, assisted by Senior Midfielder Shane Nicholson, to give the Ospreys the 1-0 lead. This was Scott's first career goal.
Scott added another goal for the Ospreys on a free kick in the fifty-second minute to the extend the lead to two.
"I found some space so I let it go with my left foot and found it in the back of the net. The win is big, to come out here at home in front of a bunch of UNF fans and it's big to get three points for ourselves in conference and try to get in first so we can host," Scott said.
Second Half
Sophomore Midfielder Bryson Pink got the Dolphins on the board with a goal in the eighty-sixth minute.
Four Ospreys finished the match with a shot on goal each.
Coach Derek Marinatos talked to Spinnaker about the importance of the win against the Dolphins.
"This win was important because it was against JU at home. We were able to apply a lot of pressure in the first half. It was unfortunate that we let them back in the game with a late goal but we'll take it, a win's a win," Marinatos said. 
The Ospreys next match is  Saturday, Oct. 20 at Stetson University.
Photos by Khorri Newton
—
For more information or news tips, or if you see an error in this story or have any compliments or concerns, contact [email protected]