Ospreys Sweep Highlanders in regular-season finale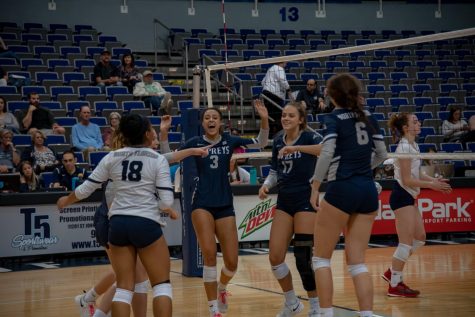 The Ospreys (11-21,6-10 ASUN) swept the Highlanders (4-28, 2-14 ASUN) in three straight sets with a standout hitting and blocking performance to end their regular season last night.
It was all UNF in the first set as the attack found holes for kills and capitalized on NJIT's seven attack errors. Sophomore Devyn Wheeler and Freshman Solimar Cestero added four kills en route to the Ospreys 25-11 victory.
NJIT got off to an early lead, but the Ospreys bounced back to take control of the second set. UNF recorded a high hitting percentage of .593 fueled by Wheeler and Redshirt-Sophomore Gabby O'Connell's combined eight kills. Freshman Kirby Smith hammered the set-winning kill as the Ospreys grabbed a 25-15 win.
Coach Kristen Wright talked to Spinnaker about what led to the team's hot hitting.
"Our defense, we've put a big emphasis on that," Wright said. "It's that and slowing the ball down, giving Mads (McCarty) more time to make pretty good effective decisions. She delivered a good ball tonight, spread it around, she did really well."
The most competitive set occurred in the third as the Highlanders and Ospreys battled it out. UNF's 10 errors allowed the Highlanders to creep up but the Ospreys shut the door with a 25-23 win. The Ospreys allowed NJIT to a measly .073 hitting percentage.
Wheeler finished the match leading the team with 13 kills. According to UNF Athletics, Wheeler recorded the third highest hitting percentage in a three-game set in school history (.812). Cestero finished with 10 kills and three digs and Senior Madilyn McCarty set up 32 assists. 
"We played loose and focused on playing the way we know how to play. Honestly, it was one of the best matches, if not, the best match we've played as a team," Wright said.
The Ospreys travel to Kennesaw to play Lipscomb in the first round of the ASUN Tournament on Thursday, Nov. 15 at 7:30 p.m.
—
For more information or news tips, or if you see an error in this story or have any compliments or concerns, contact [email protected].