Ospreys dominate Golden Eagles en route to Championship game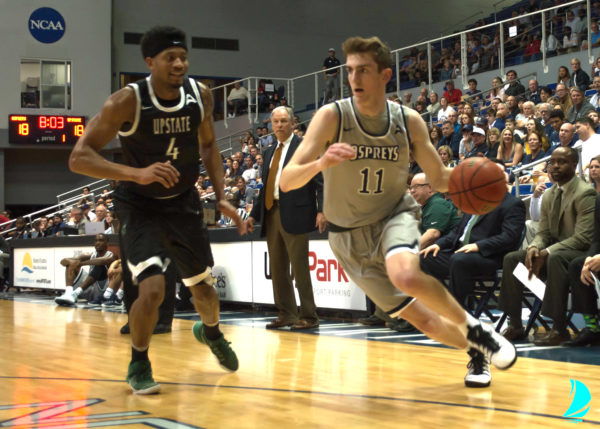 In their first bout in the Cancun Challenge, the Ospreys got out to an early lead and the large deficit from the first half was too much for a Golden Eagles comeback as the Ospreys won, 64-48.
In the first half, the Ospreys (2-3) were recording 52 percent from the field as they felt more comfortable from the interior throughout the game. Junior Noah Horchler added seven points in the first half and pulled down nine boards. Redshirt-Junior J.T. Escobar was 3-5 from behind the arc, recording 11 points in the first half. The Golden Eagles (3-1) had trouble making their shots, only hitting 29 percent. The Ospreys led, 44-23 at the half.
Southern Mississippi found their stride in the second half, outscoring the Ospreys, 25-20. Redshirt-Junior Tim Rowe led the Golden Eagles in scoring with 12 points, making five of his seven shots. Sophomore Garrett Sams resurged in the second half as he led the team in points (16) and recorded a double-double with 12 rebounds. Horchler continued to control the post,  grabbing a team-high of 16 against the Golden Eagles, recording a double- double (13 points).
With this win, the Ospreys advance to the Cancun Challenge Mayan Division Championship game against Jacksonville State on Wednesday, Nov. 21 at 3:00 p.m.
__
For more information or news tips, or if you see an error in this story or have any compliments or concerns, contact [email protected]