Allen's hot shooting carries Rebels to win over Ospreys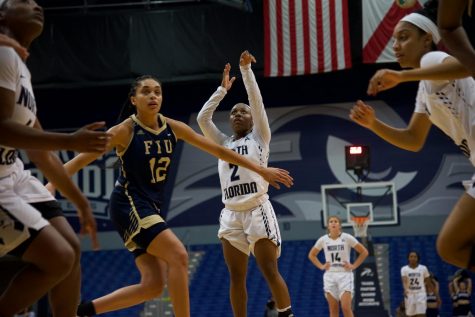 The Ospreys Women's Basketball team came into the game looking for their first ever win against a Southeastern Conference opponent but the Ole Miss Rebels' Crystal Allen had other ideas.
Allen, a Redshirt-Senior, scored a career high 34 points including another career high nine made three pointers to lead her squad to a strong win. She also chipped in with seven rebounds and two assists. Redshirt-Freshman Mimi Reid led the Rebels with 10 assists on the day.
For the Ospreys, Senior Arianna Emanuel-Wright led the way with 24 points, but 22 of them came in a first half that ended in a six-point halftime Ole Miss lead. Emmanuel-Wright and Allen went almost basket for basket in a first half that had the makings of a classic shootout. Emmanuel-Wright couldn't keep up the hot shooting in the second half, scoring only two points after the break.
The second half scoring was balanced, seeing the Ospreys getting 10 points from Senior Ty Purifoy, and eight from Junior Jazz Bond.  The team's shooting went cold and the team finished at only 37 percent from the field, 26 percent from the three, and 65 percent from the free throw line.
Meanwhile, Allen continued to cook, making three more shots from downtown and scoring 14 points in the third and fourth quarters.  The Ospreys closed the gap to as few as four points, following back-to-back baskets by Bond to open the fourth quarter scoring. Allen responded with another three pointer to stretch the lead back to seven and quell the Ospreys momentum. Allen was aided by two late threes from Senior Shandricka Sessom, who finished with 13 points and six rebounds in 25 minutes. The Rebels finished the game with an 82-69 win.
The Rebels finish 2018 with a 6-8 record as they prepare for conference play in the new year. The loss dropped the Ospreys below .500 to 5-6 on the season and the Ospreys will play host to North Alabama on Saturday, Jan. 5, at 1 p.m in their first conference game of the season.
—
For more information or news tips, or if you see an error in this story or have any compliments or concerns, contact [email protected].