Ospreys prey on Eagles for conference win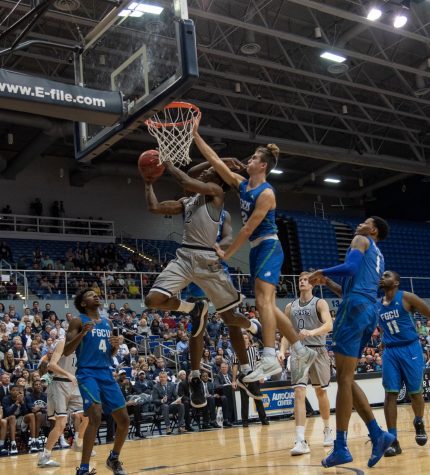 The Ospreys welcomed their avian cousins, the Eagles of Florida Gulf Coast University to their nest and put on quite a performance as the Ospreys won, 87-66.  
The ASUN rivals traded baskets early as the Eagles attacked the Ospreys with size, speed,and their trademark pressure.
"When teams press you like that, if you do what you're supposed to do at the rate you're supposed to do it, you'll get layups and dunks and wide-open threes," Coach Matthew Driscoll said.
Junior Noah Horchler had 10 points and five rebounds in the first half. Junior Wajid Aminu broke out with 12 points and eight rebounds at the break.
The Eagles pressured the Ospreys full court off every made basket, trapping ball handlers in hopes of forcing turnovers.  UNF had nine turnovers at the break, to the Eagles' five, but held the advantage in points off turnovers 10-8.
The second half featured more of the same, but the Ospreys handled the press much more efficiently.
The Ospreys scored early and often in transition, off turnovers, and off second chance points.
About four minutes into the second half, with the score close at 46-43 Ospreys, Horchler ignited the crowd and his team with a huge block in the lane.  That was the start of the run, as the Ospreys didn't look back from there and stretched the lead to as many as 21 points.
"Coach always tells me I better run as hard as I can when they got a fast break," Horchler said, pertaining to the block.
The three-pointers began to fall seemingly one after the next with the Ospreys finishing 15-31 for 48 percent, and 47.7 percent from the field overall.
Horchler led the team with 17 points, while junior F Wajid Aminu led with 12 rebounds.
Defensively, the Ospreys were just as good, holding the Eagles to only 36.7 percent shooting overall.
Despite the Eagles' size advantage, they were outrebounded 48-33 on the night.  
The Ospreys also moved the ball well, getting 23 assists on 31 made baskets.
"Our theme today, coming in, we talked about is: perfection is critical; we want perfection, but humbly we aren't there yet. But in order to obtain it, you gotta do the next right thing, "said Driscoll.
This win put the Ospreys to 8-10 (2-1 ASUN) and the loss drops FGCU to 5-13 (0-3 ASUN). The Ospreys travel to DeLand to take on Stetson on Wednesday, Jan. 16 at 7 p.m.  
__
For more information or news tips, or if you see an error in this story or have any compliments or concerns, contact [email protected]