Bobo returns to running and makes immediate impact
Anderson Bobo was sidelined for almost a year from competing and almost one year exactly, he set a new personal record in his first meet coming back.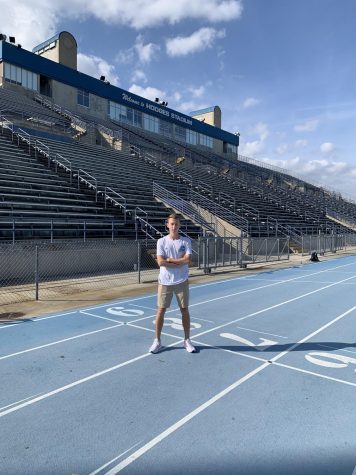 As the UNF Ospreys Track and Field team traveled to Columbia, South Carolina, to compete in the Carolina Challenge, Bobo prepared for a major comeback when returning to the track for the 3000m race.  
Bobo has been through a lot within a year, but setbacks are nothing new to him as he has battled several different injuries throughout high school. Bobo's high school career leading up to college was one to watch, as he broke a personal goal of a 17-minute time in the 5K to qualify for the State Championship. At the 2017 UNF XC invitational, Bobo ran a personal record of 16:06 during the 5K race, to put that into terms of us non-runners, that is 5:18 averaged per mile.
The Junior from Lake Highland Prep in Orlando, FL, has always enjoyed running and the perks of winning. After months of preparation and anticipating the ASUN Conference Meet in 2018, Bobo was very excited to participate until the unfortunate injury happened.
Bobo explained what happened during this accident.
"One morning I was doubling, because we run twice a day, three to four times a week, around the Fountains, that's where I used to live. A car was coming behind me so I moved over to the side where there's these really high curbs, without noticing, I twisted my ankle on the curb and my foot went outward, pretty freak accident," Bobo said.
"When it happened, the pain was super sharp and I thought my foot was going to be to the side, but it was normal and straight, my first thought immediately was the race next week because I was super hyped for that. After wobbling back up to my room on one leg I called my friend Rob who picked me up and drove me to the trainers. Later that day I went to the doctor's office and was diagnosed with a mildly displaced fracture by Dr. Acevedo from Southeast Orthopedic."
After six months to a year of recovery and preparation, Bobo was ready to get back on the track. He mentioned a roommate of his who was terribly injured and a few NBA players with similar injuries who gave him perspective through this tough time.
"My current roommate, Manny Velasquez, actually got ran over by a car carrying this huge crate on the back. That was pretty scary, seeing how he reacted in that and how he kept a good spirit, that showed me even when I am injured to always remain positive and push," Bobo said. "I'm a huge basketball guy, so definitely Paul George, my injury was nowhere near what happened to him. Gordon Hayward had an injury like that too, seeing how they reacted and watching someone with that caliber willing to stick it out and put their mind to it really gave me inspiration."
Injuries don't come as a surprise to runners, Bobo thought this would only keep him out of action for a week until he got the horrific news. He explained how his teammates helped him stay in good spirit throughout this process, and how their success brings him joy. Bobo elaborated on his confidence level comparing from before and after the accident.
"I feel like an evolved athlete, or runner, I'm really doing all the little things now, rehab every morning, arriving to practice at 7:30 a.m. when it starts at 9 a.m. to work with the trainer," Bobo said. "Not a lot of people have gone through what I've gone through and I am working harder for what I want to achieve so I think that boosts me up a little more, gives me a little bit of an edge. I tend to act with a chip on my shoulder, just from where I come, so that enhances my confidence."
Bobo mentioned his main goals for running with the team.
"My goals are to run sub 15 minutes in the 5k, that's a pretty big barrier that a lot of people quest for, that kind of shows this guy is a real runner. Placing at the conference meet and to win cross country is always the goal."
Arriving at the Carolina challenge, Bobo mentioned how nervous he was once he stepped on the line. After the gun went off and teammates constantly cheering him on helped get rid of those nerves. An entire year off from competitive racing helped Bobo complete a new personal record of 9:03 in the 3000m race. He explained how after the race his emotions grew upon him, breaking into tears when celebrating with his teammates.
"Trust the Process, that is what I say is my motto,".
__
For more information or news tips, or if you see an error in this story or have any compliments or concerns, contact [email protected].