Rams defeat Ospreys in heavy hitting battle
Both teams combined to score 14 runs in the series finale as the Rams won, 8-6.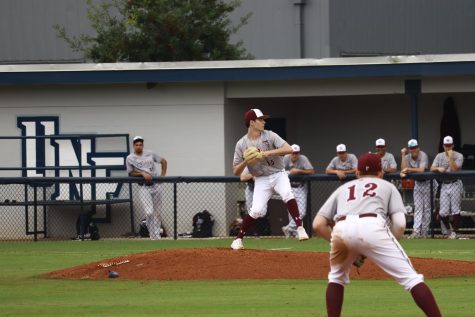 Fordham got on the board in the top of the second with RBI's from Juniors Billy Godrick, Justin Machado, and Freshman Jake Guercio for an early 3-0 lead.
Sophomore Max Law drove in the first run for UNF in the bottom of the second on an RBI single to left, Junior Tanner May scored on a passed ball in the same inning for the first two runs for the Ospreys, 3-2 Fordham.
The Rams countered in the top of the third with an RBI double by Junior Alvin Melendez and an RBI single from Senior Justin Bardwell as the Rams extended their lead to 5-2.
Junior Jake Baker hit a deep fly to right field for a solo homer as the Rams tacked on another run, 6-2.
In the bottom of the fifth, Senior Jay Prather connected on a solo homer to put the Ospreys down three, 6-3 Rams.
Bardwell plated another run in the top of the eighth on an RBI double to push the lead to 7-3.
The Ospreys ignited a rally in the bottom of the eighth with an RBI single to center that scored two, which cut the lead to 7-5. Senior Chris Berry reached on a fielder's choice while Senior Alex Hendricks scored to pull the Ospreys within one, 7-6.
Melendez added an insurance run in the top of the ninth with an RBI single to right as the Rams eventually won, 8-6.
Worth Noting
Prather led the team with three hits in the 8-6 loss.
Five Rams recorded extra-base-hits
__
For more information or news tips, or if you see an error in this story or have any compliments or concerns, contact [email protected].