O'Connell tries out for U.S. National Women's Volleyball Team
In hopes of making the elite list of 48 qualifiers, Redshirt-Sophomore Gabby O'Connell, an Outside Hitter for the UNF Volleyball team, earned a tryout for the U.S. Women's National Volleyball team.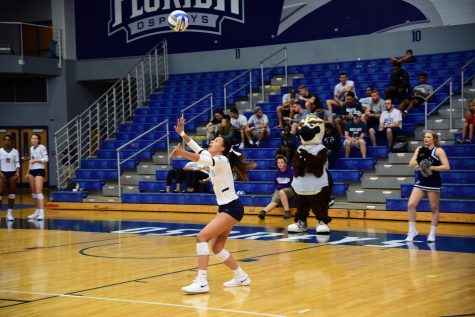 This wasn't O'Connell's first time hearing about the tryouts as her coach mentioned it after her freshman year.
"My Freshman year, the coach who was here at the time invited me to tryout and I've never heard of the tryout but it was definitely something that interested me. We put my name on the list to register and I got wait-listed, so then I couldn't go," O'Connell said.
After suffering injuries in her Sophomore year, O'Connell was unable to tryout for the Olympic team.
"My Sophomore year, I was hurt but it was still a goal of mine to tryout for the team next season. One of my first conversations with Coach Wright was my goals for the year and said that a goal of mine was to go to the tryouts. At the end of the season, she asked if I still wanted to do that and we registered and this time I was able to go," O'Connell said.
On February 28, O'Connell made the trip to Colorado Springs a day early for the tryouts to check out the new environment.
"I actually went down a day early to get adjusted to the climate there and high altitude. I toured the facility there and then on Friday, Saturday, and Sunday we played. On Friday, we were assigned into a wave, there were three different waves and I was in the red wave. We started out with a quick warm-up led by the Women's National Team Trainer which is pretty cool to go through the warm-up they'd (US Women's National Team) go through," O'Connell said.
While at the tryouts, U.S. Women's National Volleyball Team Head Coach Karch Kiraly went through the drills with the players trying out and O'Connell described her experience seeing him first hand.
"Karch Kiraly led us through the drills and it was awesome. He's super calm and collected and very thorough on what he expects," O'Connell said.
After playing on Friday and Saturday, O'Connell and the others were assigned to a team.
"On Sunday, they assigned us to a team and then we just played tournament style," O'Connell said.
According to O'Connell, the drills at the tryouts consisted of serve and pass, six-on-six freeball downball serve among others.
When asked what it would mean to make the National Team, O'Connell offered a heartfelt answer.
"It would honestly mean the world to me, especially coming off an injury. Having that goal previous to that injury and just making that team would be amazing because my "why" for a while was proving to myself that I could be as good as I was or be better. Being around other amazing players and recognizing that I could hang with them would be a great opportunity," O'Connell said.
According to O'Connell, there are four types of teams and the coaches will make decisions in a matter of weeks for who will make them.
—
For more information or news tips, or if you see an error in this story or have any compliments or concerns, contact [email protected]