Column: A weekend in Scotland
This column is part of a series written by Tyler Wailes. Wailes is on a study abroad trip and each week she shares her experience with Spinnaker readers.
At 6:34 a.m. on the morning of March 1, myself and a few friends, boarded a Virgin Train Line train from Stevenage, England to Edinburgh, Scotland. For the next five hours, seated in coach E, row 21, I watched through my window as the English landscape I have grown so accustomed to slowly turned into the great country of Scotland.
At approximately 12:30 p.m. on that same day, our train terminated at Waverley Train Station, located in the heart of Edinburgh's city center.
Being about 400 miles north of London now, there was an apparent change in temperature, around ten degrees or so, when entering the city. The wind chill was significant, causing it to feel even colder, and ultimately requiring both locals and visitors to dress in their winter coats. This, though, did not stop this city made of brick from showing us an incredible weekend.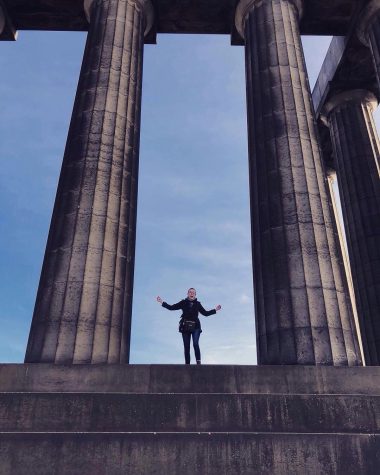 I had the opportunity to stand upon the National Monument of Scotland that sits at the top of Calton Hill. Along with its own unique beauty, this structure allows for an excellent view of the city's skyline. It was 1822 when the construction of this historic site began. The original plan for the monument was to build it as though it were a temple in Ancient Greece, with the intention of honoring those who had lost their lives in the Napoleonic Wars. The project ran out of funding midway through its development, leaving it unfinished. Today, spectators can see the sight as it was left in 1829, with only twelve pillars completed.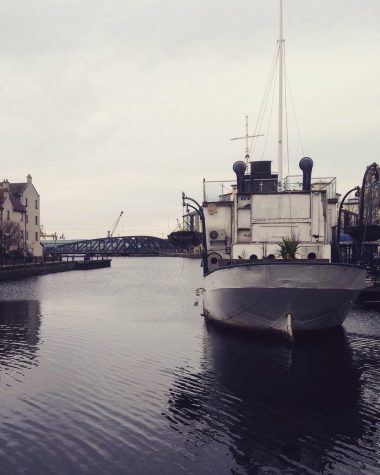 Our Airbnb was located in Leith, Scotland, right behind the Easter Road Football Stadium, and only about a half an hour walk from Edinburgh's city center. It was on the evening of March 2, on our way home from the grocery store, we began to hear the cheering of Hibernian Football Club fans echoing from inside the stadium. As we approached the massive building, we found hundreds of people dressed in green waiting to make their way into the event. They were singing songs of encouragement for their team and chanting cheers that everyone seemed to know the words to. It was in that moment I felt as if we were taking a part in a small bit of their culture, unable to help but participate in their excitement for the match that was about to occur against the Celtic Football Club. We quickly made our way over to the stadium's ticket queue in hopes that we had a chance to purchase tickets. After waiting about five minutes, an announcement rang out that the match was officially sold out for it was the quarterfinals and it was necessary to buy tickets weeks before to able to attend the event. Although we were not able to sit inside, we could hear the game from our flat. For the next two hours we cheered with crowds from the comfort of our couch.
The most impactful excursion I had the pleasure of partaking in was a tour of the Palace of Holyroodhouse. With a purchase of a student ticket at only thirteen pounds and fifty pence, I was able to have a guided tour of the entire castle. Through my tour I learned that this incredible building, now home to the Queen and the Royal Family when they visit Scotland, was once home to Mary, Queen of Scots. It was here that her beloved private secretary, David Rizzio, was murdered in the year 1556. Rizzio was stabbed several times and left lying for two days. This allowed for his blood to soak into the wood floor which is still visible for spectators today. Upon seeing this sight for myself, I was shaken. This event happened 463 years ago and I was walking through the aftermath. Though disturbing in some ways, the experience was eye opening in many more. It was then I realized there is history everywhere we go and what an incredible opportunity I have before me to stand in places that before January, I could only read about in the history books.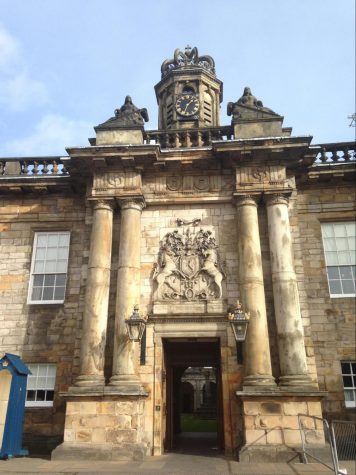 Each Saturday in Leith, the city holds what is called the Leith Market Dock Place. Local vendors set up booths, selling food ranging from gyros to crepes, and goods such as handmade bags, wallets, clothing, and much more. This event attracts locals and travelers alike, dazzling them weekly with a new experience. It was here that I was able to purchase a handsewn plaid keychain that now hangs upon my purse. It serves as a momento from a lovely weekend in Scotland.
__
For more information or news tips, or if you see an error in this story or have any compliments or concerns, contact [email protected].