Column: A journey to the south of Spain
This column is part of a series written by Tyler Wailes. Wailes is on a study abroad trip and each week she shares her experience with Spinnaker readers.
My Journey to Málaga, Spain began at 2:30 a.m. on the morning of March 11. It was 38 degrees fahrenheit, or 3 degrees celsius, when I began my walk from my flat to the bus stop where the National Express Bus would pick me up and bring me to Stansted Airport. After arriving at London's third largest airport at 4:45 a.m., I sat amongst hundreds of travelers, all of us  waiting for our journeys to begin. Flight 8162 began boarding at 6:30 a.m. and by 7:30 a.m. we were in the air heading to the south of Spain.
It was about 11 a.m. Central European Standard Time when my plane landed in the city where Pablo Picasso was born. Walking off the plane, I was overwhelmed with the feeling of home. The weather was no longer conducive for snow but, rather, a trip to the beach. Two months prior to this day, I would have never thought 70 degrees fahrenheit, or 21 celsius, to be warm but, in that moment it was perfect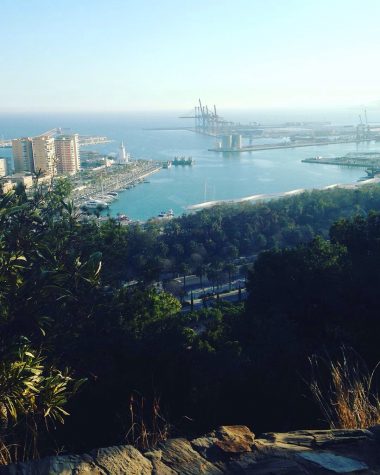 Customs in Spain was in no way a trying process. Visitors simply have to wait in a queue for no more than five minutes, provide the agent with a valid passport, be stamped, and then walk into the gorgeous country of Spain.
After making my way through the airport I found myself on a bus once again, this time headed to my Airbnb right outside Málaga's city center. I met my host at 2 p.m. and checked into the nicest Airbnb I have stayed in to date.
Walking through the city I was surrounded by color and balconies. The locals were extremely kind and helpful, doing their best to make my friends and myself feel welcome always. This was my first time on the Mediterranean and I was not disappointed. The beach was beautiful but certainly different. I was unable to swim in the water because of how cold it was but, enjoyed the few moments I had to lay in the sun before I would return to my temporary home in Hatfield.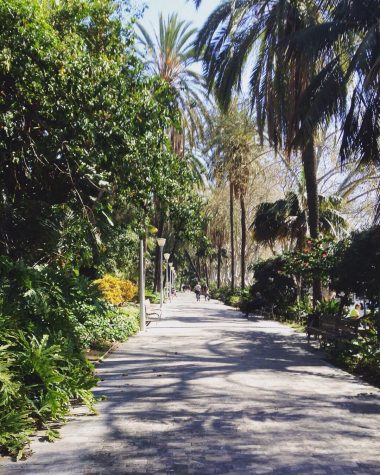 The most memorable excursion of my journey was my time at The Alcazaba of Málaga. This incredible fortress began its construction in the year 1057 making it one of the oldest structures I have ever had the opportunity to explore. Built on a hill, this massive and complex building with walls made solely of stone, provided me with views of the city like no other. It was here that I was able to watch the sunset over the Málaga skyline. I also had the opportunity to sit on a Roman Theater attached to the fortress which, for a theater enthusiast like myself, was extraordinary.
On my last day in Málaga, I visited the Museo Picasso Málaga. Here, I walked through several collections of this great artist's work. Each painting, both unique and innovative, hung on the building's white walls, a description of its inspiration and creation next to it. Pablo Picasso is very important in the city's history for it is where he was born and spent the first ten years of his life.
__
For more information or news tips, or if you see an error in this story or have any compliments or concerns, contact [email protected].