Knights charge past Ospreys in extra innings
After leading for the first four innings, the Ospreys bullpen faltered which resulted in a 9-7 extra inning loss.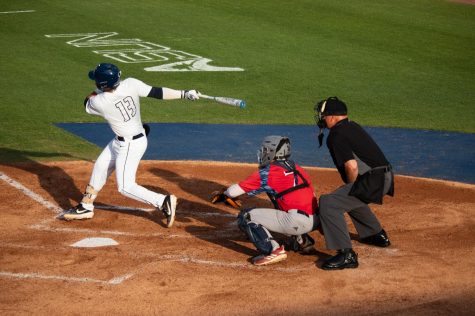 The Knights were sloppy on the field in the bottom of the first by allowing four runs on three errors. Two of those four runs were on a double by Junior Austin Hurwitz that scored a pair for the early 4-0 lead.
UCF countered in the top of the second with a two-run jack to center by Redshirt-Senior Tyler Osik to cut the Ospreys lead to 4-2.
After a quick two innings, the Knights added a run in the top of the fifth on an RBI double to left by Junior Dallas Beaver as UCF trailed, 4-3.
The Knights finally tied it up at four in the top of the seventh with an RBI groundout.
Junior Blake Marabell erased the six inning scoring drought by driving in a run on an RBI single to left in the bottom of the seventh for a 5-4 UNF lead.
The UNF bullpen was folding in the top of the ninth as Redshirt-Junior Hunter Bowling allowed a bases loaded walk to Beaver as the Knights tied it up at five.
UNF got out of the ninth with a tied game and the Knights finally broke out in the top of the eleventh by scoring four runs for a 9-5 lead.
The Ospreys attempted to mount a comeback in the bottom of the eleventh with RBI's from Marabell and Senior Chris Berry but it was all for not as UCF won, 9-7.
Worth Noting
Berry and Marabell were the only batters with a multi-hit game (2).
The Ospreys and Knights recorded three errors apiece throughout the game.
The win improves UCF to 27-18 (8-11 AAC) and the loss drops UNF to 26-18 (8-6 ASUN).
The Ospreys head to Nashville to take on Lipscomb for a weekend series starting on Friday, May 3 at 7 p.m.
__
For more information or news tips, or if you see an error in this story or have any compliments or concerns, contact [email protected].