Ospreys power past Rattlers in 13-7 road win
In a game of constant offense, Senior Alex Reynolds and Junior Tanner Murphy led the charge in the road win over FAMU.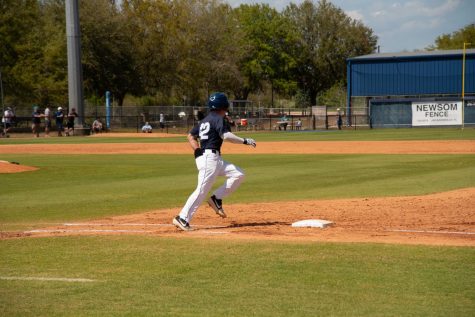 Reynolds fired the opening salvo of the game in the top of the second, plating one on an RBI single to center for a 1-0 lead.
Junior Austin Hurwitz scored two more runs on a two-bagger to right for a 3-0 lead in the second.
The Ospreys jumped out to a 7-0 lead in the top of the third with RBI singles from Juniors David Maberry, Blake Marabell, Hurwitz and Sophomore Abraham Sequera.
Redshirt-Freshman Robert Robinson finally got the Rattlers going with an RBI single to right which scored one to cut the deficit to 7-1. After an RBI single and a runner scoring on an error, the Rattlers were down 7-3 to close the third inning.
The offense kept on rolling as the Rattlers got to within one on a trio of RBI singles as the Rattlers trailed 7-6 in the bottom of the fourth.
Senior Willis McDaniel tied the game at seven in the bottom of the fifth as a runner scored on his ground ball to short.
After a wild pitch and a passed ball, the Ospreys scored two more runs in the top of the sixth for a 9-7 lead.
Reynolds added a pair of insurance runs as he scored two on an RBI single to center for an 11-7 lead to close the sixth.
Two more Ospreys scored on a wild pitch and a passed ball in the eighth and ninth inning which was the final nail in the coffin as the Ospreys won, 13-7.
Worth Noting
Murphy made history twice in the game as he walked five times which is now the UNF single game record for most walks in a game. The Junior from Jacksonville also stole four bases in the win over FAMU which tied the program record for most stolen bases in a single game.
Reynolds led the team with four hits on the night.
Freshman Logan Clayton picked up the win, improving his record to 2-1.
The win improves UNF to 28-20 (9-8 ASUN) and the loss drops FAMU to 21-29 (13-8 MEAC).
The Ospreys head home to Harmon Stadium for a home weekend series against Kennesaw State starting on Friday, May 10 at 6:05 p.m.
__
For more information or news tips, or if you see any error in this story or have any compliments or concerns, contact [email protected].