Hatters edge past Ospreys in 6-5 win
After some costly errors by the Ospreys on the field, the Hatters squeaked by with a 6-5 win in the Ospreys final regular season game.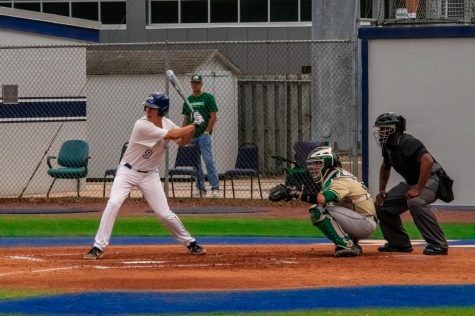 Redshirt-Senior Wes Weeks and Junior David Maberry plated three runners on RBI singles in the third for a 3-0 lead.
The Hatters countered in the third with a sacrifice fly to left that scored Sophomore Nick Cardieri to cut the deficit to 3-1, Ospreys.
An RBI single by Freshman Noah Dickerson in the fourth followed by a runner scoring on an Osprey fielding error tied the game at three.
The Ospreys claimed the 4-3 lead in the fifth on an RBI single to center by Junior Blake Marabell.
The game continued to be a shootout as the Hatters rallied in the fifth for three runs including an RBI double by Sophomore Kyle Ball for a 6-4 Stetson lead.
Maberry plated another run in the top of the ninth but it wasn't enough to tie the game as the Ospreys lost, 6-5.
Worth Noting
Maberry had seven RBI's in the series against Stetson.
Senior Chris Berry walked four times in the 6-5 loss.
The loss drops UNF to 31-23 (12-11 ASUN) and the win improves Stetson to 24-30 (11-12 ASUN).
UNF plays Liberty in the first round of the ASUN Baseball Tournament on Wednesday, May 22 at 3 p.m. in DeLand, FL.
__
For more information or news tips, or if you see an error in this story or have any compliments or concerns, contact [email protected].