Ospreys eliminate No. 1 seed Eagles in second round
Behind 13 hits and 10 walks, the Ospreys set down the Eagles in a 10-5 win.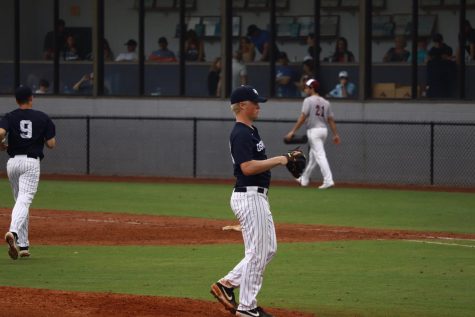 The Ospreys capitalized on Senior Evan Lumbert's lack of control on the mound as Junior David Maberry scored a run after being plunked with the bases loaded for an early 1-0 lead in the second inning.
Berry plated two runs on an RBI single to left in the third to stretch the lead to 3-0, Ospreys.
The Eagles finally found ways to score in the third as they scored on a pair of fielder's choice groundouts and a bases-loaded walk to tie it up at three.
That tie was short-lived as the Ospreys rallied in the fourth led by a trio of RBI singles from Juniors Tanner May and Tanner Clark as well as Berry to put the lead at 7-3, UNF.
A two-run double by Freshman Joe Kinker in the seventh cut the deficit to 7-5, Ospreys.
The final nails in the coffin were in the eighth as May scored two on a single to center and Berry hit a sacrifice fly to center to cement the 10-5 win.
Worth Noting
Senior Nick Marchese delivered a quality start for the Ospreys as he went six innings, allowed three runs (two earned) on two hits, despite allowing six free passes.
Five Ospreys recorded a multi-hit game (Berry, Seniors Jay Prather and Wes Weeks, Clark, and Murphy).
Depending on the outcomes of the other games in the tournament, the Ospreys will play either Lipscomb, Liberty, or Jacksonville University on Friday, May 24 at 3 p.m.
__
For more information or news tips, or if you see an error in this story or have any compliments or concerns, contact [email protected].