Hawker scores golden goal in extra time thriller
[embedyt] https://www.youtube.com/watch?v=tY8VrpAGZHI[/embedyt]
Video by: John Watson
Featured Image by: Dan Parker
After a quiet 90 minutes of regular time from both teams, the Ospreys scored on a golden goal by Jake Hawker in overtime to win the home opener against USC Upstate.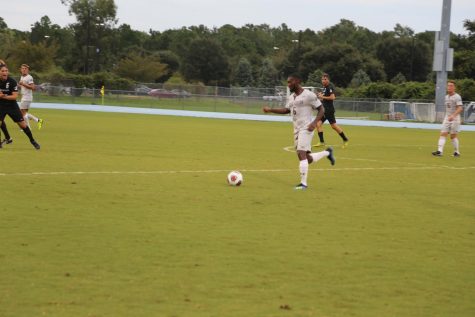 Neither team had luck getting the ball in the net during regulation. However, Hawker scored the winning goal for the Ospreys in the 92nd minute after recovering a shot that hit the crossbar.
"Originally, I actually thought Zane [Bubb] was going to score so I just did what strikers are meant to do, which is follow everything in and luckily it just fell to my feet and I was there to just tap it in," Hawker said. 
The Senior from Camberley, England finished the night with two shots on goal, four shots total.
North Florida's defense shone in the match despite missing two starting defenders, including team captain, Nick Burgess. The Spartans faced 15 shots while the Ospreys only faced two.
UNF Men's Soccer Head coach Derek Marinatos attributed the win to the team applying its mindset from practice to the game.
"We just said, 'If you can focus on your work rate… and you bring the fight, the way we were talking about in practice and what we've been doing, then we're gonna be successful tonight and get the result,'" Coach Marinatos said.
Padraic Gilley, the Ospreys goalkeeper, also contributed to the defensive effort in his first game back from an injury last season.
"It feels great, honestly. The defense worked hard. The whole team worked hard. And it feels good to get a clean sheet, first one actually," Gilley said. 
The Ospreys' home game against Marist has been cancelled on Monday, September 2 due to Hurricane Dorian. They will head to Atlanta to play Georgia State on September 9 at 7:00 p.m. 
__
For more information or news tips, or if you see an error in this story or have any compliments or concerns, contact [email protected].