Ospreys clip Owls in four sets
Featured image by: Darvin Nelson
After dropping the first set, the Ospreys won three straight to hand the Kennesaw State Owls their second conference loss of the season.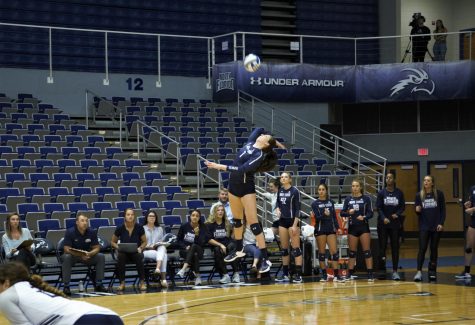 The Owls took a deceptively close first set, winning it 25-19. Although they won by six, the score was tied five times and there were four lead changes throughout the set. 
Kennesaw State's Lauren Chastang led all scoring with five kills. The Ospreys' Solimar Cestero ended the set with four kills.
The Ospreys responded with a strong showing in the second set. Led by another six kills from Cestero and five from Miriam Stingl, North Florida won the set, 25-22. They did not allow Kennesaw State to take the lead at any point throughout the second set.
Late in the third set, the Ospreys found themselves down 24-20. The team in blue and grey needed four consecutive points if they wanted to take a 2-1 set lead and they delivered. With two clutch kills from Emma Dixon and three Owls errors, the Ospreys were able to tie the set at 24. They successfully completed the comeback, winning the third set, 27-25.
The Owls and Ospreys fought back and forth throughout the fourth set. UNF's Taryn Griffey went off, racking up four kills. She ended the night with 10 kills, recording a .455 hitting percentage.
Bria Plante also stepped up for the team against the Owls. The freshman from Alpharetta, GA ended the match with six kills and three blocks.
The Ospreys turn to to 11-14 (4-6 ASUN) while the Owls fall to 15-7 (8-2 ASUN).
UNF heads north to Newark, NJ to take on NJIT on Friday, November 1 at 6:00 p.m. 
__
For more information or news tips, or if you see an error in this story or have any compliments or concerns, contact [email protected].