"The Great Wall of Jacksonville" stands tall against Owls
Featured image by: Darvin Nelson
In their potentially last home match of the season, the Ospreys' back line kept the Owls in check for a 1-0 home win.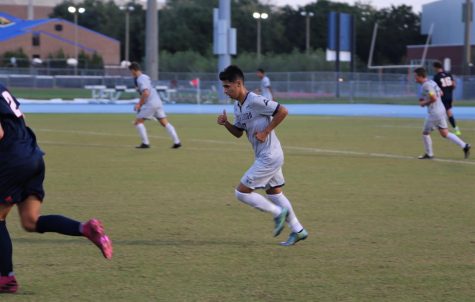 Before the match, UNF Men's Soccer Head Coach Derek Marinatos emphasized high pressure for the team in the first half.  
"One of the things that was our point of emphasis is that we feel like we've been starting a bit slow in the first half and absorbing a little too much pressure," Marinatos said. "Tonight, it was different, we started on the front foot and I thought we applied a lot of pressure early on and it led to the early goal."
Robbie Soronellas dished out a dime inside the box to Miguel DeLeon, Jr. for a goal to put UNF up, 1-0, in the 16th minute. This was the junior's first goal as an Osprey. 
"It's a relief and I'm glad I could help the team with the win," DeLeon Jr. said. 
Throughout the second half, the Owls were erratic on the attack as six of their seven shots were not on goal. FAU's best chance to score was a shot off the crossbar from Ivan Mykhailenko in the 70th minute but the Owls couldn't capitalize as UNF took home a 1-0 victory. 
LJ Estes, who coined "The Great Wall of Jacksonville", patrolled the back line in the 1-0 win. 
"It's actually kind of cliche but we call ourselves The Great Wall of Jacksonville so we just stick together and cover each other," Estes said.  
The Ospreys improve to 5-6-2 (3-2-1 ASUN) while the Owls drop to 5-7-1 (1-4 C-USA). 
The Ospreys head to Charlotte to take on the 49ers on Saturday, November 2 at 7:00 p.m. 
__
For more information or news tips, or if you see an error in this story or have any compliments or concerns, contact [email protected].