Ospreys stave off Sharks in Sin City
Featured image by: Darvin Nelson
On Thanksgiving Day, the Birds of Trey feasted on a 95-92 victory against LIU in a close battle to advance to the Las Vegas Invitational Title Game. 
When the game opened up, the Sharks set the tone early with a 10-0 lead.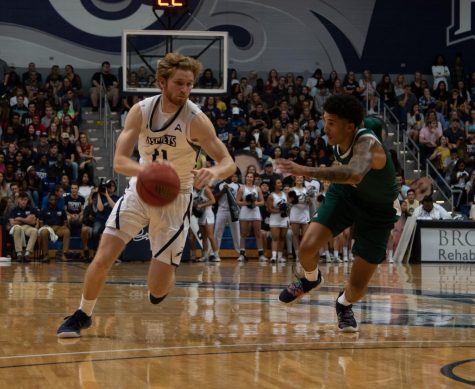 The Ospreys woke up and a quartet of threes kickstarted their scoring for a 12-10 lead. 
The lead changed 12 times throughout the first half as the Ospreys trailed, 46-40, at halftime. 
LIU was lethal from deep as they went 5-7 from outside the arc. 
Raiquan Clark led all with 14 at the half and Ivan Gandia-Rosa led the Ospreys with 10 points. 
Both teams were off to the races in the second half and the Ospreys were only down, 52-46, five minutes in. 
Later on, the Ospreys swooped in and took a 72-70 lead with less than eight minutes left in the game with Dorian James, Carter Hendricksen, and Emmanuel Adedoyin chipping in with six points.
It all came down to the final six seconds of the game as the Sharks drained a pair of threes to trim the deficit to 95-92, Ospreys.
The Sharks had a prime opportunity to tie the game with a three-point shot from the left wing but the shot was just a bit off and UNF escaped with the win. 
Gandia-Rosa and Hendricksen were serving more than mashed potatoes as they combined for eight assists and 43 points in the win. 
UNF's bench had a strong showing with 28 points led by James (12) and Josh Endicott (11).
In the title game, the Ospreys (5-3) take on the Tennessee State Tigers (4-3) on Friday, November 29 at 4:30 p.m. 
_
For more information or news tips, or if you see an error in this story or have any compliments or concerns, contact [email protected].