Men's basketball drops overtime heartbreaker against Central Arkansas
CONWAY, Ark. – Carter Hendricksen's 32-point performance wasn't enough for the University of North Florida (UNF) Ospreys on Thursday as they fell to the University of Central Arkansas Bears 88-85 in a brutal overtime loss.
This was a tough break for the Ospreys, who – just one week after snapping a losing skid – have quickly started another one. Now having lost five of their last six, UNF finds itself 11th in ASUN conference standings.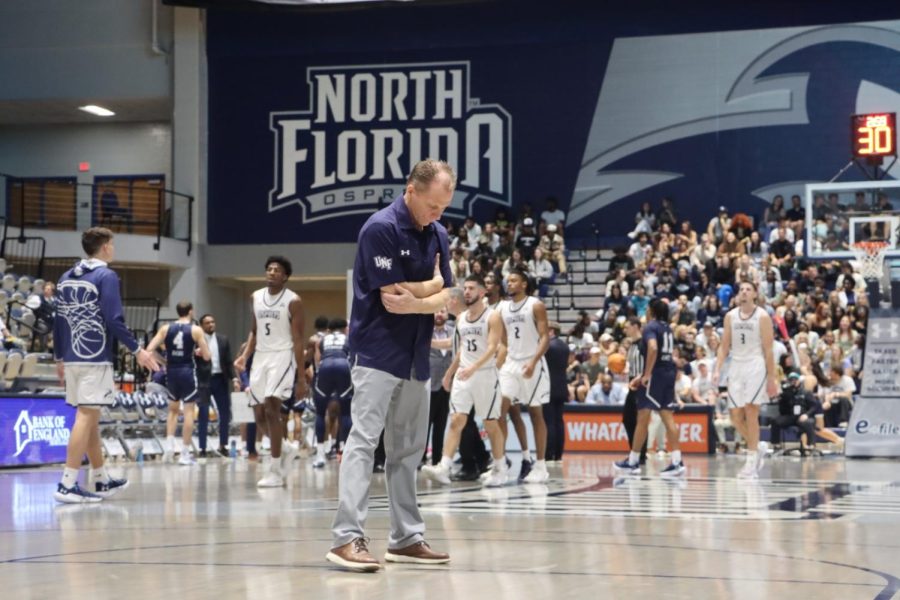 The game got off to a quick start, with UNF guard Oscar Berry sinking a three-pointer just four seconds in to grab an early lead. Things leveled out, with the score being knotted up 18-18 at the midway point of the first half. 
It was Berry yet again who broke the tie with a three-pointer. The Ospreys doubled down when Hendricksen followed suit with a three of his own, pushing the lead to 24-18. UNF continued to build the lead, going into halftime up 38-30.
UNF's first points on the other side of the break came courtesy of another three-pointer, this time shot by guard Jose Placer. The Ospreys let things fly from deep, firing away 36 shots from beyond the arc Thursday.
While this kept things close against Liberty on Saturday, this wasn't the case against UCA, as the Birds of Trey only converted on 27.8% of their long-range attempts. These numbers wouldn't be devastating for many teams, but for one as reliant on three-point shooting as UNF, it simply isn't enough.
The Ospreys continued to lead throughout much of the second half, finding themselves up by 12 at one point. The Bears would narrow the gap, but UNF would hit back. That was the case until the last five minutes of regulation, at least.
UCA went on a tear, fighting back to take the lead with just under three minutes remaining. They had erased the lead that UNF fought to build, with head coach Matthew Driscoll pointing to those moments as the turning point in a game that his team had largely controlled.
"[We didn't] have the ability to get the stops we needed, most importantly the defensive rebounds that we needed," Driscoll said. "They came with vigor and were able to finish."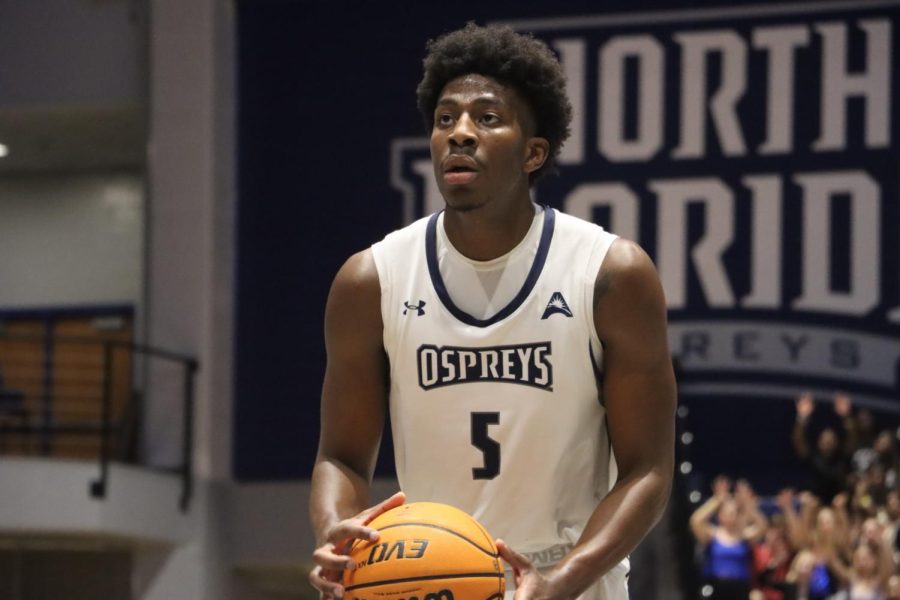 The tides had turned, with a pair of Dorian James free throws being necessary just to give the Ospreys a new lease on life. A game that UNF had once led by double-digits in the second half was now headed into overtime.
Things were even throughout most of extra time, but the Bears inched ahead 86-83 with just 15 seconds remaining. UNF quickly closed back in with two more successful free throws from James, who was spotless from the line and also contributed nine rebounds.
The Ospreys had no choice but to foul. UCA guard Collin Cooper sank both free throws to stretch the lead back to three points. UNF had one last chance with the ball in the hands of Carter Hendricksen.
The senior had already racked up 32 points and 11 rebounds on the night, seeking his second 35-point showing in the span of a week. It wasn't meant to be, with an open look from deep falling short off the front of the iron.
An 88-85 overtime loss certainly isn't how the Ospreys wanted to start their weekend road trip, but they will have a shot at redemption against a hot North Alabama squad on Saturday. 
___
For more information or news tips, or if you see an error in this story or have any compliments or concerns, contact [email protected].