Limayem speaks to packed Senate chambers about his successes and challenges as president
The Senate chambers on the third floor of the Student Union were filled nearly wall to wall Friday afternoon where University of North Florida President Moez Limayem would later give a guest speech.
The president answered questions from senators about his upbringing, his past working in public higher education, and the challenges and successes he has had during his first year at UNF. 
Public comment was moved from before Limayem's speech to after it and the president left before hearing any public comments. 
President Limayem started off his speech by talking about where he grew up and his background working at USF. He also explained he does not want the university to be the president's vision. Rather, it should be the vision of all the students.
Another point he brought up is that UNF is more underfunded than other schools in the state and that he is working on talking with legislators about fulfilling a more ambitious budget request. 
He also briefly discussed the importance of everyone being different at college or otherwise and advised that senators work to talk about those topics with students. 
He said the "lack of understanding and appreciation" of people's differences is where issues can stem from. "We need to celebrate these differences."
After Limayem spoke, each senator was given the opportunity to ask two questions.
Parliamentarian Maya Drum asked the president specifically how his background helps him to better serve the campus. He explained how he grew up in a modest household and went on to tell a story about his childhood.
"I am very happy I have spent ten years in this state and I think my knowledge of the opportunities, but also the challenges allows me to hit the ground at a higher speed then many other possible candidates," Limayem said. 
Another senator asked president Limayem about housing concerns on campus and what he plans to do about them. He explained that the university has the land for a new residence hall, but does not have the money for it. He also explained how they have reached out to different apartment complexes to see if they can rent out a plot of the complex to students at the university.
Senator Nathaniel Rogers asked President Limayem two questions about esports and Limayem responded that he is interested in them and supports the University's involvement in them.
Once senators finished their questions, the meeting moved on to public comments. Limayem left the Senate chambers before comments began. 
The public remarks were originally on the agenda for before the president spoke, but at the beginning of the meeting Senate President Johnson moved for the public remarks to happen after Limayem spoke.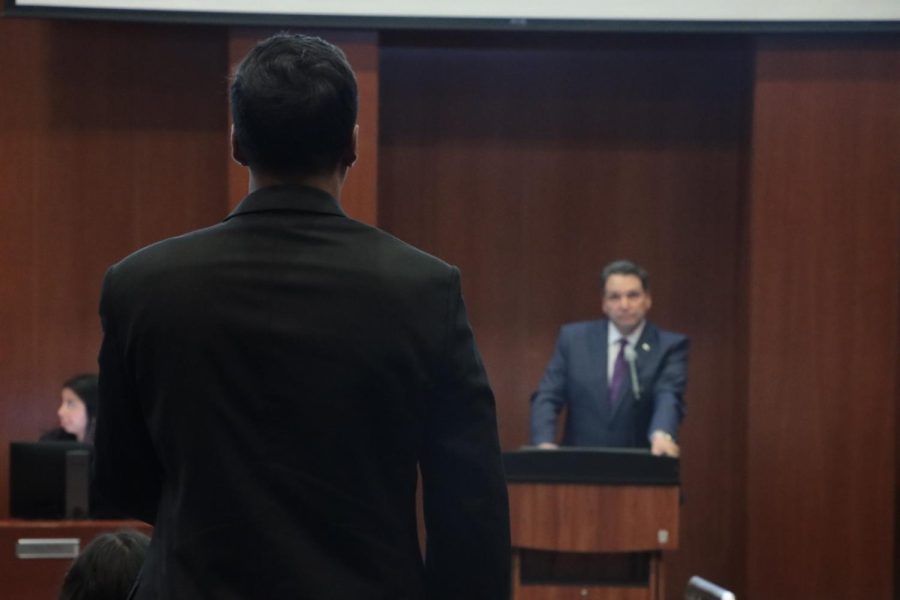 The three people who gave public remarks are all involved in the Students for Democratic Society.
Calvin Pell was the first person to speak and explained his concerns about the state's actions around education and how he wants to see concrete plans from the UNF administration.
Icarus Olsen was the second person to give a public remark. Explaining how he does not see himself being successful at UNF because of recent legislation, Olsen said that he has already started looking for different universities to transfer to. 
"I fear for what the future of myself and other students may hold," Olsen said. 
SDS Vice President Marlo Crosby asked whether the university is open to outsourcing in local areas to see if they could replicate what the Women's Center and LGBTQ Resource Center offer on campus now.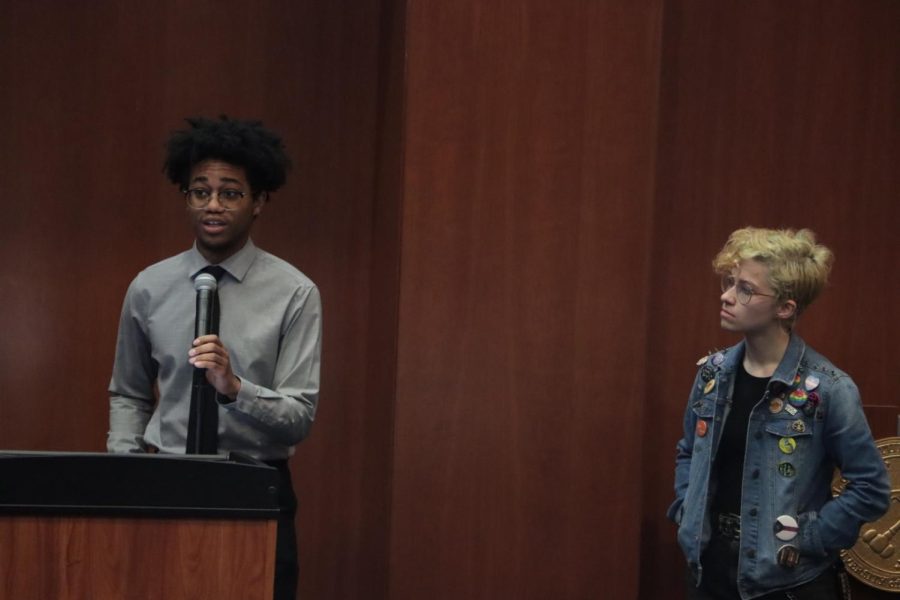 Crosby spoke to Spinnaker after the meeting ended, saying that Limayem leaving before public remarks was "very telling." They also explained how they were upset about what questions senators chose to ask and which ones they didn't. 
There were two questions about esports and no questions about Florida legislation impacting education or diversity issues, Crosby explained. 
Later, Senate passed one joint resolution with zero opposition. Titled "Advocating for Protection of Free Expression and Diversity at UNF," this resolution solidified Student Government's support for diversity, equity and inclusion in education. 
"Let it be enacted that the Student Government of the University of North Florida stands in alliance with the UNF Office of Diversity and Inclusion and strongly rebukes Governor DeSantis' stance on Diversity, Equity, and Inclusion (DEI) initiatives with his actions limiting educational curriculum," the resolutions language said.
At the end of the meeting, two students were appointed to the Senate by unanimous vote and sworn in.
___
For more information or news tips, or if you see an error in this story or have any compliments or concerns, contact [email protected].