Silent protest held outside UNF president's inauguration ceremony
Protesters from Students for a Democratic Society met in front of Lazzara Hall where University of North Florida President Moez Limayem would later be officially inaugurated Friday morning.
Standing silently atop pillars in front of Lazarra Hall, protesters held homemade signs that called for diversity, inclusivity, transparency and other topics. 
SDS has set up numerous protests in the last few months against current legislation targeting university students and minority communities, and they looked at the inauguration as a perfect opportunity. 
Marlo Crosby, the vice president of SDS and a junior at UNF with a major in anthropology, said that the point of the protest was to bring attention to President Limayem's avoidance of student complaints.
"We were holding a silent protest in protest of Limayem avoiding our voices, especially when we raise them in the face of legislation like DEI and inclusivity bills that are circling around Tallahassee," they said. 
This comes after the DeSantis administration has progressed several bills regarding students' rights and diversity, equity, and inclusion through the legislature. SDS recently held a rally in Tallahassee protesting HB 999, a bill that would change which majors are offered in universities among other things. 
Icarus Olsen, a freshman fine arts major and a member of SDS, explained that Limayem's efforts to calm students in the wake of this legislation have been underwhelming.
"His appearances have been very scattered," he said about what he called a lack of advertising around the recent town hall. "He overall does not seem to care about what we have to say."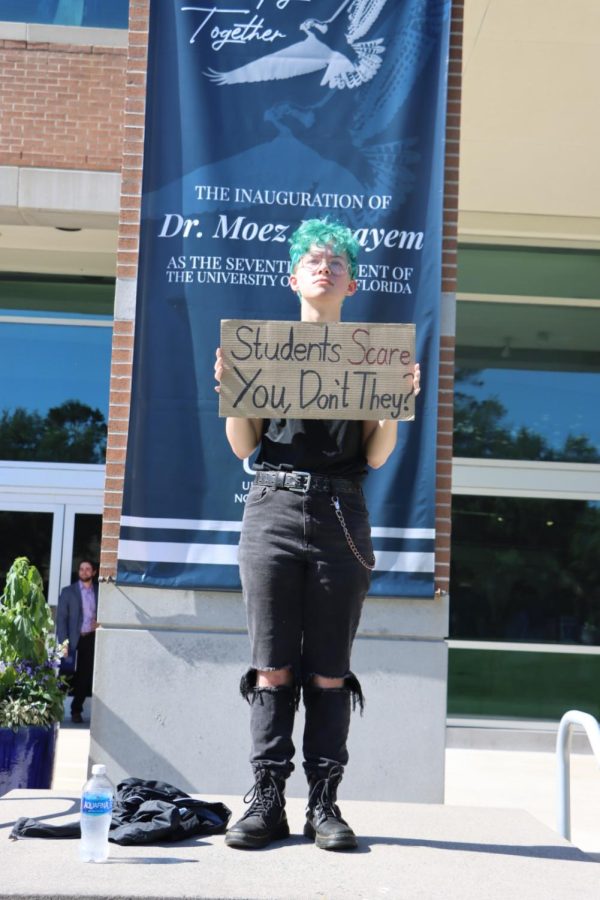 The protest was held to bring attention to student concerns on a day celebrating UNF's president.
Crosby explained that the technique of silent protesting contrasts with recent efforts but was strategically planned. Although their backs were turned to the procession, Crosby believes their statement landed with the members of the procession.
"If our silence is enough to disrupt your event, then maybe you should listen to us," they said.
SDS said they wanted to make sure the silence was the message and that he placement of their protesters was intentional. Crosby said this was because it made sure the cameras and bystanders were aware of their presence. 
The protesters dispersed as the ceremony began inside the auditorium.
___
For more information or news tips, or if you see an error in this story or have any compliments or concerns, contact [email protected].