Tropical Storm Idalia strengthened to a Category 1 Hurricane early Tuesday morning, and the National Hurricane Center in Miami warned that it is still strengthening.
Already crossing the westernmost part of Cuba, Idalia is now forecast to become an "extremely dangerous major hurricane" before making landfall on Florida's West coast on Wednesday, according to NOAA's 8 a.m. public advisory.
The center of Idalia is expected to move across the Gulf of Mexico today, reaching the Gulf coast of Florida tomorrow and then moving across the state to the Carolina coastline on Thursday.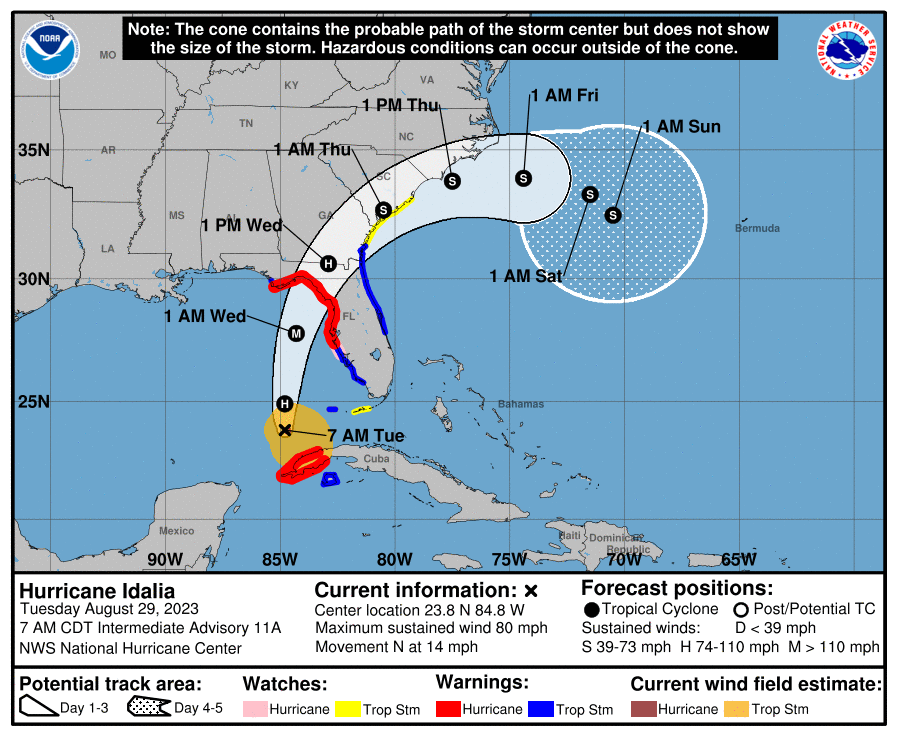 Hurricane conditions are expected within portions of the Hurricane Warning area along the Gulf Coast, with the "potential for destructive winds" where the core of Idalia moves onshore, NOAA said in its key messages at 5 a.m.
Strong winds are forecast to spread across portions of northern Florida, near the track of the center of Idalia. Heavy rains are similarly expected across portions of western Cuba which may produce areas of flash and urban flooding, and landslides, NOAA said.
Areas of flash urban flooding are also expected across portions of Florida's west coast, the Florida Panhandle and southern Georgia, beginning today through Wednesday, the weather organization said.
"You need to complete your preparations today if you live in the Florida big bend. To put this system into the historical context, there are NO major hurricanes in the historical dataset going back to 1851 that have tracked into Apalachee Bay. None," officials with the National Weather Service wrote at 5 a.m. on Tuesday. "Don't mess around with this. Follow the advice of your local emergency management."
Significant rainfall is expected in areas across the state, including four to seven inches in Western Cuba; four to eight inches in portions of Florida's west coast, the Florida Panhandle, southeast Georgia and the eastern Carolinas; and isolated higher totals of 12 inches possible primarily near landfall in northern Florida, according to NOAA's 8 a.m. public advisory update.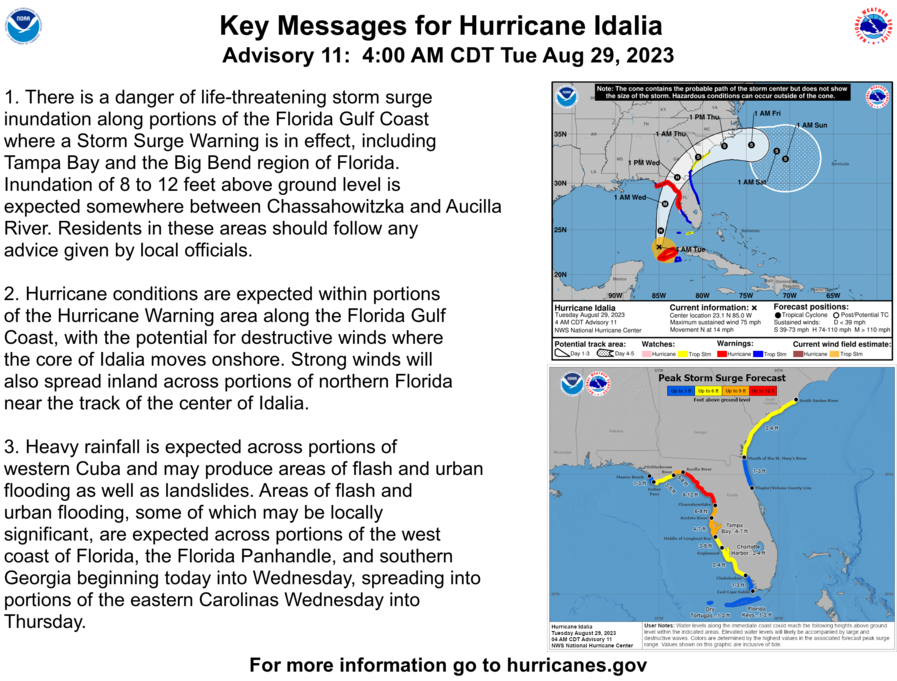 Numerous hurricane, storm watch and other warnings have been spreading across Florida since Monday.
A Hurricane Warning means that hurricane conditions are expected somewhere within the warning area. A storm surge warning means there is a danger of life-threatening inundation, from rising waters moving inland from the coastline, during the next 36 hours in the indicated locations.
Visit here to learn more about what areas of Florida are impacted.
UNF prepares
The University of North Florida announced that its campus and all of its activities and classes would be canceled on Tuesday and Wednesday to prepare for the incoming storm. The campus has been shut down except for those living on campus who will have access to dining and residential areas. Depending on the impacts of Idalia, that may change and the university said they would communicate any adjustments to that plan.
"As conditions worsen, the university will make necessary adjustments but will ensure that residential students have food and shelter," the Monday alert said. Dining services is currently open under emergency hours, viewable below: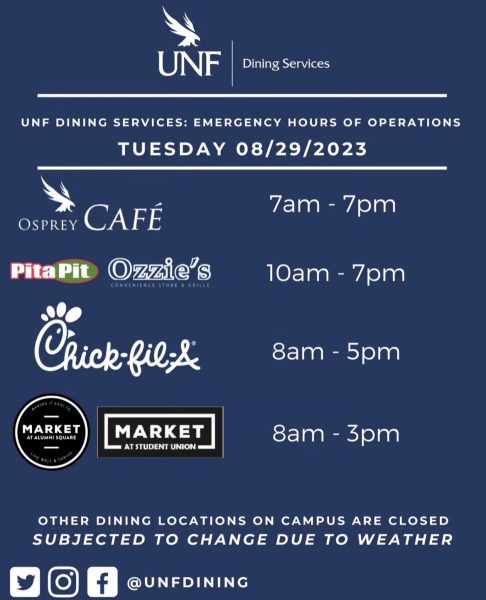 Starting Tuesday, shuttle services will also operate on a "limited schedule," the university said, one that would be communicated directly to students living on campus. Alongside its classes, any activities are being canceled or postponed as well. The university had planned to hold a community gathering Tuesday morning to support students, faculty and staff after the racist shooting in Jacksonville over the weekend, but have now postponed it. More details will be released soon, UNF told Spinnaker.
Stay with Spinnaker as we bring continued updates about the storm and its impacts on Jacksonville and UNF. 
___
For more information or news tips, or if you see an error in this story or have any compliments or concerns, contact [email protected].