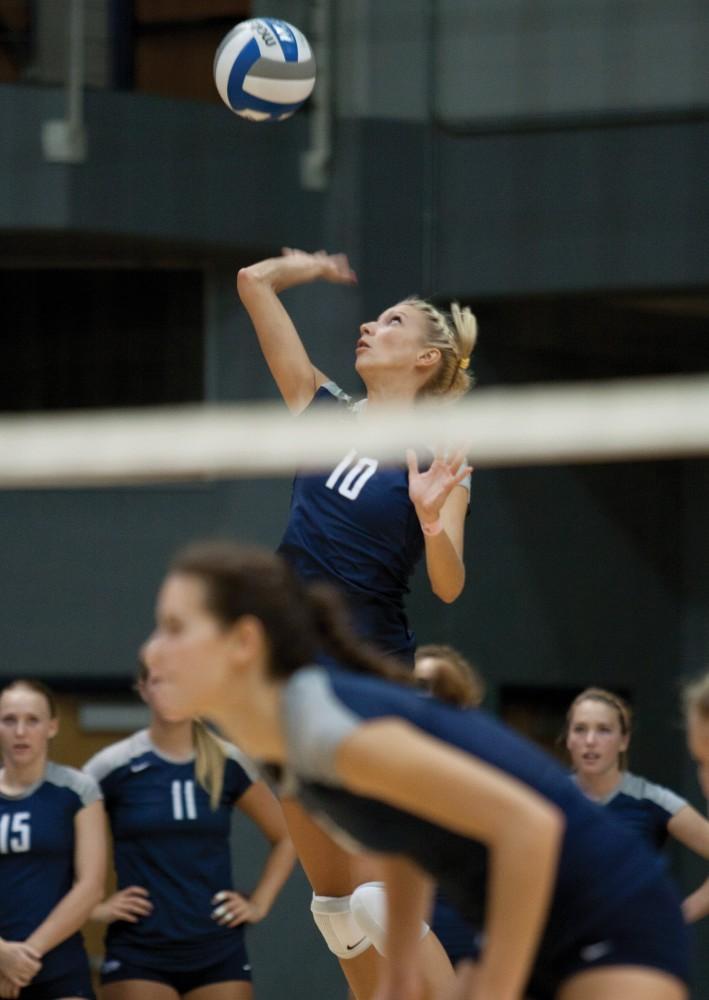 After dropping three-straight matches the UNF volleyball team (9-7, 1-3 A-Sun) entered Swisher Gymnasium on the Campus of cross-town rival Jacksonville University (3-14, 1-3) looking to stop the bleeding.
Playing in its eighth-straight road game and after dropping three-straight, UNF came out on top in a four-set match, 3-1 (25-22, 26-24, 20-25, 25-20).
In the game four players stepped up when the team needed them most. Middle blocker Marija Pantovic, outside hitter Paige Pridgeon, middle blocker Carolyn Jenkins and defensive specialist Kelsey Smith all made key plays at the end of  sets to give UNF the win.
In the first set UNF was trailing JU 17-14 when UNF.
head coach Steve Loeswick called for a timeout. After the timeout UNF was able to go on a run 9-5 run. With the score at 23-22 UNF Smith went back to the service line and gave the Ospreys set point.
With a short serve that caught JU off guard, Smith was able to pick up her first service ace of the game which forced JU to call a timeout.
After the timeout Smith went back to the line and once again came through for UNF. Smith hit a serve down the bench line that a JU player misread and let fall in play to give UNF a 25-22 first set victory.
"Kelsey had two big plays that won us the set," Loeswick said. "We try to put the girls in the right place and we hope the training comes into play and they take care of the business we ask them to take care of.
Taking care of business is exactly what Jenkins, Pridgeon and Pantovic did against the Dolphins. The trio combined for 36 kills and 47.5 of the team's 73 total points.
Jenkins led the Ospreys with a career-high 10 blocks, two self-blocks and eight block assists, and had 13 kills on the night to give her a double-double.
Later in the second set Pantovic and Jenkins shined. After a JU timeout, down 23-21, Pantovic and Dagnija Medina teamed up to block JU's Sammie Strausbaugh to pull within one. JU's Kylie Jacob would score a kill to give JU a 24-22 set point lead, but had a service error which made it 24-23.
Pantovic and Jenkins teamed up to block Strausbaugh again to tie the set at 24-24. In the next point Pantovic killed a ball from Britt Classens. In the final point of the set Jenkins and Pantovic once again teamed up to block a familiar foe, Strausbaugh. The block gave UNF another comeback win and a 2-0 lead in the match.
In the fourth and final set once again Jenkins was a major factor in a small spurt of points. Jenkins tallied three points, all kills, in the final five UNF points.
Although Pridgeon may not have had an end of set moment like Jenkins, Pantovic and Smith she continued to stay consistent and quietly finished the match with 13 total kills, three block assists and one service ace. Pridgeon had five of UNF's 16 kills in the first set.
Even though the big match was against JU, Pantovic said the win and the game felt the same as any other match.
"For me honestly I don't really try to look at conference a lot different then any other game, but it feels really good to win," Pantovic said.
At the game there was a healthy amount of UNF fans, nearly an entire section, and Pantovic attributed that to the win.
"It was amazing, it always is when they come out," Pantovic said when asked about the fans. "I can't thank them enough. It really means a lot that the gym is not quiet on our side as well. We can only get so loud because there is only 14 of us and there were like 50, 60, 70 I don't know, but it was a lot."
UNF will be returning home after completing its eight-game road stretch Oct. 5 at 7 PM when it hosts Stetson University.