Week in rewind: Racist video, no SG president and more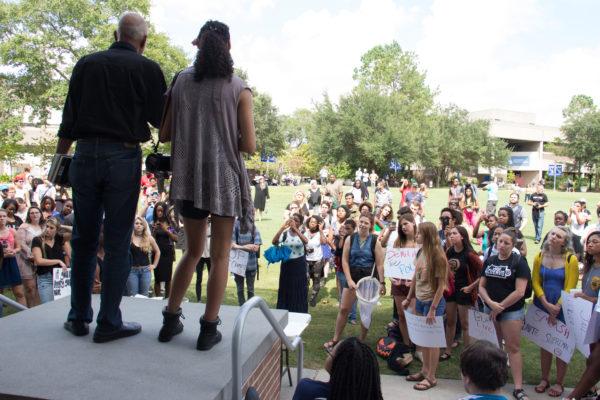 Student Body President Samantha Mims resigned via email last week after being given an ultimatum by the Attorney General Jaclyn Glosson to step down or face impeachment. Glosson stated that Mims was "negligent of her duties as President." Mims resigned and appointed Gloria Turner as vice president.
Black Lives Matter Rally on campus
The Students for a Democratic Society hosted "Take a Knee UNF" in support of Black Lives Matter. At the rally, people took a knee on the Green in solidarity against police brutality. Counter protesters showed up to the rally and things got heated between students.  
Racist video posted by UNF student
On the same day of the BLM rally, a video was posted by UNF student Zack Morse showing two men jumping around and making monkey noises. The caption on the video read "What actually went on at the BML rally."  
SDS demands punishment for the video
SDS wrote a letter to the editor where they demanded that President Delaney punish the possible students involved "for their deeply offensive actions." They stated that a "slap on the wrist and/or a perfunctory email from the President's Office," would not suffice for this "anti-black video."
President John Delaney responds  
President Delaney spoke to Spinnaker and also released a statement on the issue. He stated a "full and fair"  investigation of the video would be conducted by the university, but the public may not know what the potential punishment would be because of privacy laws.
"UNF has a Code of Student Conduct, and if we determine the Code was violated, the University will take responsible and appropriate action,"  Delaney said. "As the investigation continues, it's important to note that under federal privacy laws, the University may be constrained in what it can reveal publicly."
Mackesy stated that no criminal action could be taken against the participants in the video at the time because no criminal laws had been broken. But police officers may be more visible on the core of the campus walking around and on bicycles as a result of the racist video.
Morse later told Spinnaker that "BML" was not a typo, but did not state what it stood for. He said that he was surprised to see the video and that it went viral.
"The situation in question is under investigation by the University, I am not really at liberty to discuss details quite yet but I can say that this entire ordeal is a harsh misunderstanding and more information soon to follow," Morse told Spinnaker.
He also stated that this was all a "harsh misunderstanding," and once the full story came out, Spinnaker would owe him an apology.
On Oct. 12, VP nominee Gloria Turner was approved by the Government Oversight committee. She faced the Senate on Oct. 13, but was rejected. Thomas Beaucham, who was Mims' first choice as VP, has become student body president.
__
For more information or news tips, or if you see an error in this story or have any compliments or concerns, contact [email protected].