Board of Trustees holds final Presidential Evaluation for President Delaney
The UNF Board of Trustees met on Oct. 24 in order to hold President Delaney's final Presidential Evaluation for the 2016 – 2017 academic year. Delaney was unanimously approved for the annual performance compensation.
President John Delaney began the meeting by reporting on the progress in various areas of university focus, such as construction, fundraising, and the recruitment and retainment of students and faculty.
In terms of construction, President Delaney reasserted his goal of completing the construction of Skinner Jones Hall, the new on-campus residence hall, by December. He also updated the BoT on plans for a new campus Interfaith Assembly center, which requires around $2 million to make possible.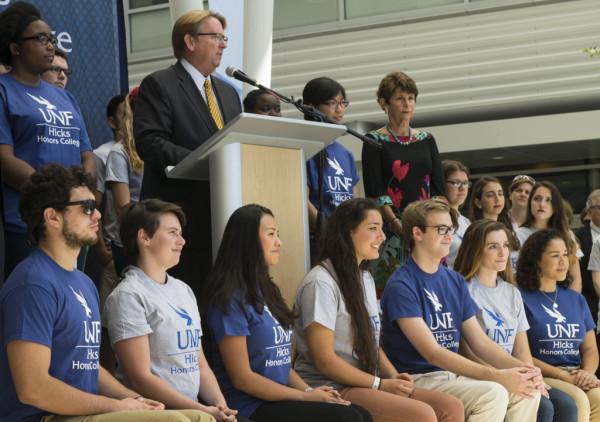 President Delaney then touched on Performance Based Metrics from the 2016 – 2017 academic year.
"The six-year graduation rate for 2016 – 2017 was 56 percent. This is the highest graduation rate UNF has ever attained and will provide us with three improvement points on our total Performance based Funding Scores," said Delaney in his annual report. "We are beginning to approach a 58 or 60 percent six-year graduation rate, which would move us to the top of our national peers."
Second-year retention rate for students with a GPA above a 2.0 has also increased by about 2.7 percent, though many other metric scores that determine the overall report for UNF through the Board of Governors (BOG) will not be available until March 2018. The comparative report will give the UNF BoT and administration a clearer idea as to where UNF stands in respect to other state institutions.
The chair of the UNF Foundation also presented information showing that 2016 – 2017 was a record setting year for donations at UNF.
Student Body President Thomas Beaucham was in attendance to the BoT meeting for the first time, accompanied by former President Isabella Genta.
Moving on to his overall evaluation, Former Student Body President Genta voiced student feedback from the Presidential Search Committee and Open Forum. Surveys revealed a desire for the next president to focus more on "providing a rigorous academic experience that is going to make [students] competitive in the workplace against students [from other institutions]."
However, overall feedback from both students and the BoT was positive. Most comments relayed an appreciation for President Delaney being open and accessible. The BoT unanimously approved of President Delaney's annual performance compensation.
__
For more information or news tips, or if you see an error in this story or have any compliments or concerns, contact [email protected].