Men's Basketball drops back to back games season opener weekend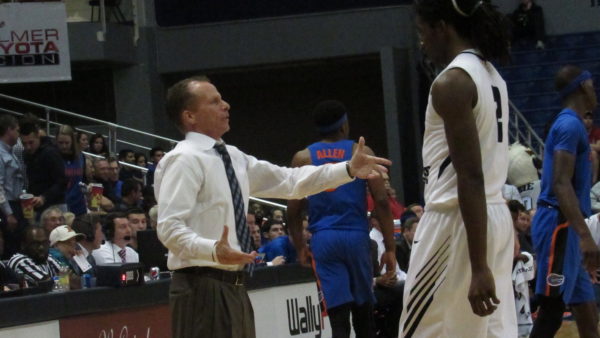 Two games in and men's basketball has gained road experience but no victories in the season opening weekend.
North Florida fell 98-66 to No.2 Michigan State in the chilly East Lansing on Nov.10. Similar to last season's hot shooting, the Ospreys knocked down 11 three pointers. During the opener, five players made their collegiate debuts.
The game was back and forth until the 13th point. But that would be the closest the Ospreys got with the Big Ten foe in the half. The Spartans scored 19 unanswered points on their home court.
The first half was full of turnover struggles and missed shots with UNF shooting only 29 percent. At halftime, Michigan State led 52-26.
Ospreys showed life once more in the second half and traded buckets with the Spartans for a 11-4 run.
Ivan Gandia-Rosa led the team with 19 points. Returning starters Garrett Sams and Wajid Aminu finished in double digits as well, while reeling in team-high rebounds.
Head Coach Matthew Driscoll had six players make their debut as Ospreys.
"We got a fast start but with an inexperienced team like we have, sometimes that results in guys getting a false sense of security," said Driscoll.
The Ospreys stayed in the state of Michigan to face the Michigan Wolverines.
North Florida went tick for tack with Michigan in the first quarter, but could not hold for the remainder of the game and fell 86-66.
Ospreys started out with a 14-2 lead until Michigan went on a 11-2 run of their own. At the end of the half, Michigan led 32-30.
Late in the game, the score was tied up at 49 until Michigan went on a 24-4 streak. With themselves in a hole, the Ospreys managed to go basket for basket late but not enough to pull out a win.
The Wolverines picked at the Ospreys' weakness and forced 24 turnovers.
In this matchup, UNF shot 60 percent from downtown. Sams connected from behind the arc three times and finished with a team-high 17 points. Gandia-Rosa followed closely behind with 12 points of his own for his second straight game of double digits scoring.
Driscoll described how the team moved away from shooting the deep ball while they were down.
"We are a good three-point shooting team and shot it well from the arc again tonight, however we somehow got away from taking those shots down the stretch and started to try and force the ball inside," said Driscoll.
North Florida continues their time on the road and face VCU Nov.13, 7 p.m.
__
For more information or news tips, or if you see an error in this story or have any compliments or concerns, contact [email protected].