Women's basketball earned a win over Northern Kentucky
It's day one of the UNF Holiday Classic hosted at the UNF Arena, and a strong defensive presence pushed the women's basketball team (6-6) to defeat the Northern Kentucky Norse 58-50 on Dec.19.
In the first half, the Ospreys hit the first basket out. The Norse quickly recovered and knocked down multiple three-pointers to give themselves an early lead.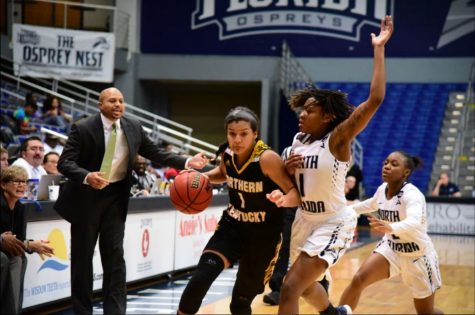 Junior transfer Arianna Emanuel-Wright was called off the bench, and provided a burst on both ends of the floor while the team chipped away at the lead.
"One thing that coach said before we started the game is to have active minds on defensive, " Emanuel-Wright said. "Before I got in, I really wanted to make sure I did that, and make sure I was focused in and knew the scout and knew how to defend each player."  
The guard's quick hands provided several deflections, and disrupted Northern Kentucky's plays, which led to points in the Osprey's direction. The Ospreys created a run, and were close to catching up to the Norse. By half time, Northern Kentucky held a slim 27-23 lead over North Florida.
Head coach Darrick Gibbs described how the Ospreys' energy intensified over the afternoon, and how that energy created offensive opportunities and defensive disruptions, especially from Emanuel-Wright.  
"Having someone come off the bench and kind of give you the punch that she gave us, I told them in the locker room," Gibbs said. "You talk about where it came from like a lot of it came from her energy and her activity on both ends of the floor, and generating stuff for us."
Out of the break, UNF continued to claw away at the lead before taking control of the game with just under three minutes left in the third quarter.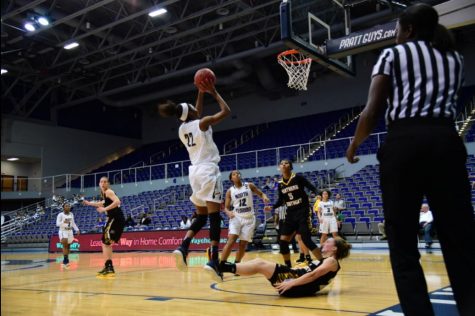 Redshirt senior Keonna Farmer punched in multiple baskets early in the half. She believed it came down to a strong mindset after a toss loss nights earlier.
"It was more so just a mental thing and making sure that everybody prepared for the next game," Farmer said. "It was just more so of us getting ourselves mental [sic] ready to go."
Late in the third quarter, redshirt senior Tesh Hanson took a hard fall and let out an agonizing cry that filled the arena. She would remain on the court for a few minutes before being helped off the court and into the locker room. Hanson never returned to the contest. Hanson does have a history of back issues that has plagued her during her Ospreys' career.
"We will see where she is, and where we go from here," Gibbs said. "She will be fine. It's just a matter of it's going to take some time for her; every time it happens it does."
Despite being down a player, North Florida didn't take their foot off the gas as they continued to pile on their lead over the visiting team. Northern Kentucky didn't have an answer down the final stretch, and watched as North Florida ran out the clock for the victory.
Farmer finished with a team-high 21 points while teammate Emanuel-Wright added 19 of her own.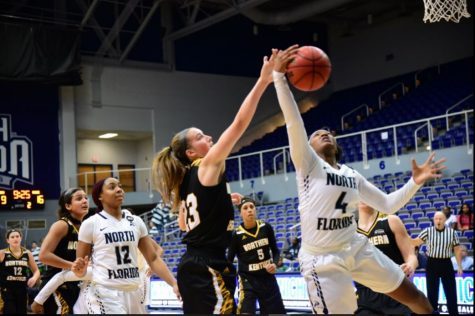 For Northern Kentucky, guard Samari Mowbray had 12 points while Kailey Coffey and Molly Glick both ended their afternoon with 10 a piece.
UNF's shooting percentage from the floor went up and down throughout the game, and they finished with 40 percent overall. This is just two more percent than Northern Kentucky. Both squads were held to under 30 percent from behind the arc. Northern Kentucky connected on five compared to two from North Florida.
UNF converted 16 out of 21 chances at the free throw line while NKU only went 7 for 11. North Florida forced 27 turnovers from Northern Kentucky leading to baskets on the opposite end of the floor.
Women's basketball returns to the UNF Arena to face the Edward Waters College Tigers for day two of the UNF Holiday Classic on Dec.20. Admission is free.