Men's basketball team falls on the road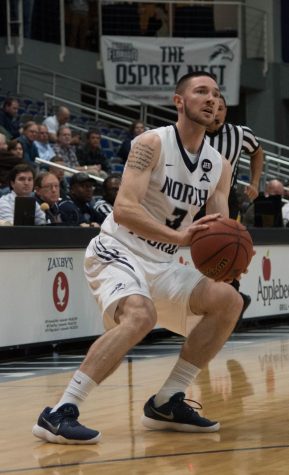 The men's basketball team drops its second road game in a week with a hard-fought 79-65 loss to the Ball State Cardinals on Dec.19.
In the opening minutes of the first half, Ball State grabbed an early 0-6 lead over the visiting Ospreys. However, Noah Horchler sparked an Ospreys' response to take the advantage away from the Cardinals.
The two team continued to battle back and forth as North Florida snatched a slim 18-17 lead in front of Ball State's fans. Horchler scored seven out of the ten points during that run to keep the Ospreys at the same pace of the Cardinals.
Ball State answered with a run of their own, and began to push themselves apart from North Florida in the scoring margin. The Cardinals went into the locker room with a 43-30 lead over the Ospreys.
After the break, North Florida fell cold and watched Ball State score six points to push the score 49-30, which forced a visiting team timeout.
The Ospreys wouldn't remain cold for long though. Back to back three-pointers from JT Escobar and Ivan Gandia-Rosa cut into the growing lead, which made the Cardinals call a timeout of their own to regroup.
North Florida responded with a 14-0 run with two more beyond the arc plays to knock the Ball State's lead from a massive 19 to only five.
The contest went down to the wire as the two teams traded buckets before the Cardinals sealed the game on their home court.
Horchler finished the night with a career-high of 19 points and 13 rebounds to lead the four Ospreys in double digits. Ball State's Trey Moses had 15 points and 13 rebounds of his own to add to the three other double digits teammates.
North Florida finished with 40 percent from the floor compared to just under 50 percent from Ball State.
The Birds of Trey knocked down 8 out of 27 from downtown while the Cardinals saw 6 out of 20 go through the net.
UNF only went to the line three times and converted just once, unlike Ball State, who went 7 for 12.
Men's basketball will continue their road trip, and face the LSU Tigers Dec. 22 at 8 p.m.