Men's basketball falls in a physical River City Rumble
[embedyt] https://www.youtube.com/watch?v=Fmv7lx-ubr0[/embedyt]

Video by Joslyn Simmons

As the calendar rolls to January, it could mean only one thing for basketball, the start of conference play. For North Florida and Jacksonville, it also means part one of the River City Rumble, where the crosstown rivalry fuels even more athletic play on the hardwood.

In recent years, the games have come down to the wire with this matchup being no different, except for the team that claimed the victory. The Jacksonville University Dolphins (7-11 overall, 1-0 ASUN) snapped a losing streak against North Florida (6-12 overall, 0-1 ASUN) for a 90-86 victory at the UNF Arena.

At the game tip-off, the Ospreys returned to its opening day starting lineup with Garrett Sams back from his ankle injury he suffered in early December.

For the first half, UNF dominated with a double digit lead after a back and forth affair in the opening minutes. Once the home team made a little distance, they continued to add to their lead behind freshman Trip Day, who came off the bench.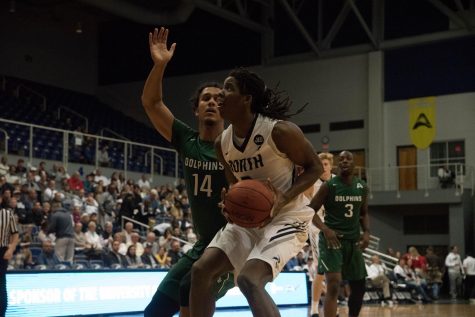 With a 1:22 left in the half, sophomore forward Wajid Aminu hit the court hard and held his ankle in pain. Aminu left the court with assistance, and did not put any pressure on his right ankle as he headed into the locker room. He would return with crutches at the start of the second half. According to Head Coach Matthew Driscoll, the forward did attempt to move on his ankle during the break before being sat out for the remainder of the game with a taped, propped up ankle and an ice bag.
At the break, North Florida held a 52-42 advantage over their crosstown rival.
Once the teams returned from the locker room, Jacksonville exploded with their own offensive energy and created a 13-0 run after five minutes had elapsed in the half. During their run, the Dolphins only made dunks or layups against the Ospreys.
Jacksonville Head Coach Tony Jasick saw how his freshman player provided a surge to help push them during the stretch.
" I thought that [JD Notae's] burst really helped us on the offensive end," Jasick said. "I thought some of his teammates did a really good job of finding him."
Senior Devin Harris touched on how he continued to talk to his teammates during the game to stay focused on the plan and be energized.
"I tell them every day in practice," Harris said. "No matter what drill we doing, it's a game of runs and I kept repeating that to them throughout the night."  
North Florida responded with their own 13-0 run to chip away at Jacksonville's lead.  With just under nine minutes left in the half, Trip Day went in the paint, made the basket and had a chance to make it a three-point play at the free throw.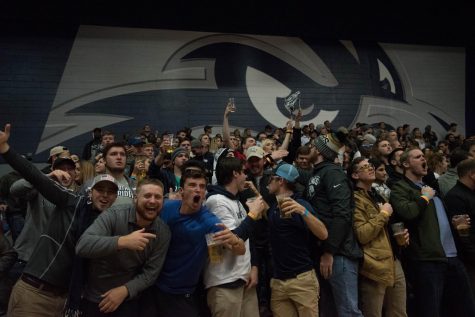 He knocked down his free throws and tied the game up at 70, which led to an energized arena that became so loud one couldn't hear themselves think.
JT Escobar saw the conference play atmosphere as being something that added to what was felt on the floor, and not as a distraction.
"The energy is different because now you know it's conference play," Escobar said. "This is where it counts the most. You feel the energy. It really give you more energy."
With freshman Emmanuel Lambright's back to back defensive stands and offensive conversions on the opposite end, the Ospreys held a 78-70 lead over the Dolphins.
Once again, Jacksonville rallied with freshman JD Notae leading a charge of 12 points of his own in a four minute span. Notae had 25 points for the night.
"My motor was going," Notae said. "I was like that's what I do, so that's all I can say."
With 12 seconds remaining in the game, Jacksonville's Jalyn Hinton knocked down a pair of free throws to push the match out of reach for North Florida.
Day finished his night with a team-high of 19 points, and lead three other teammates in double figures. Freshmain duo Notae and Hinton had a combined 47 points for Jacksonville, and was half of the four Jacksonville players in double digits.
North Florida shot just over 49 percent from the floor while Jacksonville had a 50 percent completion rate. UNF made 7 from downton while JU knocked down 5.
While this may be only the first game of conference, it has significance for both teams in the stacked ASUN conference.
"You can tell the energy is different," Escobar said.  "Coming into conference, and every game is going to be like this. Every game is going to be a dog fight."
The men's basketball team will return to the UNF Arena to face Lipscomb on Jan.11 at 7 p.m.
Photos by Lili Weinstein