Jacksonville playoff reaction: pride in Sacksonville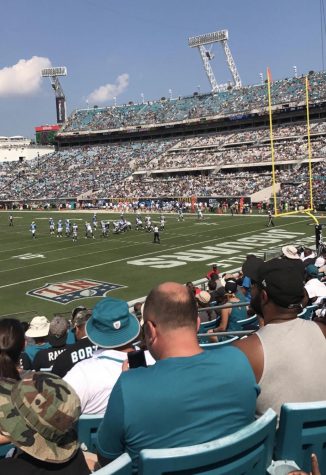 Few games can carry such a lackluster stat line and mean as much to a fan base as yesterday's Jacksonville Jaguars game.
With only one touchdown and two field goals scored, it wasn't an exhilarating win by NFL playoff standards. But in a world where it had been 10 years since a Jaguars playoff run and 19 years since a home playoff victory, Jacksonville's survival against the Buffalo Bills has huge ramifications for a city and team eager for a deep postseason stretch.
A scoreless first quarter set the pace for a game where Jaguars quarterback Blake Bortles racked up more rushing yards than passing. Both the Bills and Jaguars were held to one redzone attempt each.
Whether you look at total yards, 3rd down efficiency or the number of Bortles' short passes lost to his inability to throw into the wind, the Jaguars offensive performance was less than stellar.
But it didn't matter.
Jacksonville's defense continued to make a statement by holding the Bills to under 300 total yards and snatching two interceptions, including a decisive grab by cornerback Jalen Ramsey with 32 seconds left in the game.
Sunday's Wild Card game stands as a continuation of a Jaguars season where the win was all that mattered. It didn't have to be pretty, it didn't have to be record setting, it just had to be a W at the end of the day.
That winning attitude has translated into something Jacksonville sports fans don't experience very often: a sense of pride. You're likely to see people around UNF and #Sacksonville adorned with a lot more teal, black and gold this week, accompanied by numerous "DUUUVALLL!" shouts echoing in the streets.
As for the upcoming divisional game against the Pittsburgh Steelers, Jacksonville has to do more than make a few subtle adjustments to the offense.
Running back Leonard Fournette needs to rush for at least 100 yards and Bortles can't have under 100 yards passing, even if the wind is once again a factor. Those don't seem like heavy burdens to overcome for a team advancing to the divisional round of the playoffs, but outside of the defense, Jacksonville has struggled to appear playoff ready.
The key to success for the Jaguars will be to score early and avoid the multitude of three-and-out drives that transpired against the Bills. Ramsey has to play his best football and then some against wide receiver Antonio Brown if he doesn't want a Steelers game-winning drive to be orchestrated on his watch.
The Jaguars will be the underdog this week, but you can count on the #Sacksonville fans to send that Duval pride north.
__
For more information or news tips, or if you see an error in this story or have any compliments or concerns, contact [email protected].