Men's Basketball Beats Stetson on the Road
North Florida (10-14 overall, 4-3 ASUN) takes care of business on the road by knocking off the Stetson Hatters (10-14 overall, 2-5 ASUN) 73-65.
In the game of two halves, North Florida began the first half shooting 50 percent from the field despite only making one three-pointer in the first half. Stetson shot 38.7 percent from the field.
Midway through the half, both teams saw cold stretches of missed shots before North Florida created separation from Stetson thanks to points in the paint. Towards the final minutes of the half, the Ospreys continued to make points in the paint and also made some trips to the free throw line. North Florida and Stetson traded baskets to close out the first half, where North Florida held on to a slim five point lead, 39-35.
Coming out of halftime, both teams struggled to put points on the board. The contest didn't see a single bucket until almost two minutes back into the game.
Stetson chipped away at the lead to tie the game early in the second half with buckets from Stetson guards B.J Glasford and Luke Doyle. North Florida slowly began pulling away again from Stetson despite another period of missed shots. A fast break layup from Trip Day followed by a three from Garrett Sams increased the Osprey lead to seven, 50-43.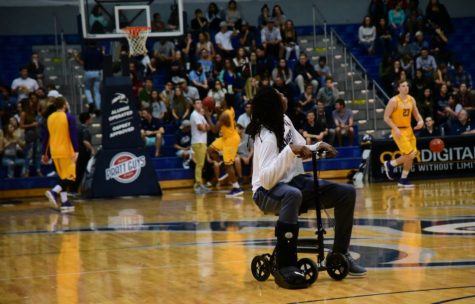 Wajid Aminu returned to action after missing five games due to a lower leg injury. In his return, Aminu posted a double-double performance of 11 points and 12 boards while helping the Ospreys defensively with four steals and two blocks.
Towards the final minutes of the game, trips to the free throw line from Ivan Gandia-Rosa and a three from JT Escobar virtually put the game out of reach for the Hatters.
The Ospreys dominated the Hatters on the boards with Noah Horchler and Aminu combining for 28 of North Florida's 44 rebounds. Gandia-Rosa scored 15 points while leading three other Ospreys in double figures. Divine Myles scored 18 for Stetson while leading three other Hatters in double figures.
North Florida continues their trip on the road in an ASUN rematch against Florida Gulf Coast (16-8 Overall, 7-0 ASUN) in Fort Myers on Jan. 29.
__
For more information or news tips, or if you see an error in this story or have any compliments or concerns, contact [email protected].