Women's Basketball Dominates Kennesaw State on the Road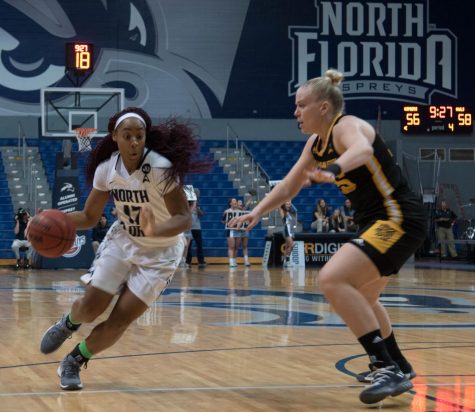 The women's basketball team (11-15 overal,4-7 ASUN) overcame Kennesaw State (7-15 overall, 3-8 ASUN) and crushed them 68-44 in on the road on Feb.12.
The Ospreys started strong as usual with a 6-0 lead. North Florida was able to continue this momentum by gaining a double digit lead 16-6 with two minutes left in the quarter Kennesaw tried to shave the score down before the quarter ended, but Tiffany Tolbert hit a three to keep a 10-point lead.
The second quarter was slower with the first bucket not being scored until three minutes into the quarter. Kennesaw stayed consistent with their scoring while slowing North Florida down. By the end of the first half, the score was 31-22.
After the break, the Ospreys got their energy back and only allowed one field goal. The rest of the points in the quarter were the Owls' free throws. The Ospreys shot 57 percent in the quarter, and pushed themselves to a lead of 53-32.
The final quarter was not any better for the Owls who had 13 turnovers. During the half, the Ospreys converted 16 points off of those turnovers.
Head Coach Darrick Gibbs commended the team's leadership in a press release after the game.
"Our leadership group has been great over the past two days and it correlated to the success we had tonight," said Gibbs.
The women's basketball team will return to the UNF Arena to play NJIT on Feb.17 at 2 p.m.
—
For more information or news tips, or if you see an error in this story or have any compliments or concerns, contact [email protected].