UNF handles NJIT 80-76 in Quarterfinals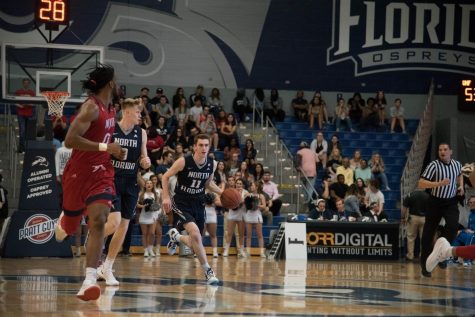 As the ASUN Conference Tournament play gets underway, it was the fifth seed UNF men's basketball team getting a tough road win over fourth seed NJIT in the quarterfinals 80-76 on Feb. 26.

North Florida(14-18 overall, 8-7 ASUN) started off the game about as well as you could draw it up. The Ospreys found themselves up 13-0 before the Highlanders(14-16 Overall, 7-8 ASUN) were able to find the ball go into the bottom of the net.
Garrett Sams had a night to remember by starting the game off going 3-3 from the three-pointer line. At one point, Sams had 14 points in the first half while the entire NJIT team had 13 points.
Going into the end of the first half the Ospreys found themselves up 39-19 with not many mistakes being made. However, the Highlanders would not bow down and go away quietly.

NJIT came out in the second half playing very aggressively and hitting three point shots that were not falling in the first half. With a little over a minute remaining in the game, the Highlanders cut the lead all the way down to one point trailing 75-74.
Key items that helped the Ospreys win were hustle plays by coming up with clutch free throws and a key steal from Sams with seven seconds left in the game.
Head coach Matthew Driscoll said after the game in a live stream how the team is inexperienced with 10 out of 11 scholarship players being freshman or sophomores, and playing not to lose a game can be very dangerous.  

Sams lead the Ospreys in scoring tonight with a career-high of 28 points while teammates Noah Horchler and Trip Day added 12 a piece.

As for the matchup on Thursday, UNF will travel to play at  No.1 seed Florida Gulf Coast. During the regular season, the Ospreys fell in both matchups against FGCU this year. The  semifinals matchup  tip off  will be at 7 p.m in Fort Myers.