Fighting Irish sweep Ospreys in double header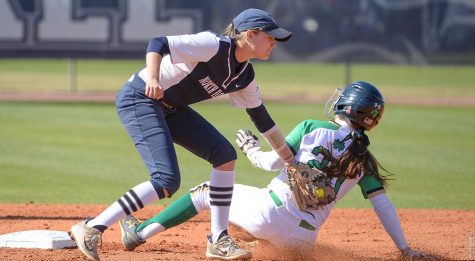 Dominant pitching held the Ospreys at bay in both games Wednesday night. With a combined 18 runners left on base throughout the night, North Florida(13-13) came up short against Notre Dame (15-8).
In game one, Fighting Irish's freshman pitcher, Alexis Holloway was lights out with only allowing two hits, and striking out ten in route to pick up the win.
During the sixth inning, the Irish started a rally with a single and back-to-back fielder's choice bunts which loaded the bases. Caitlin Brooks capitalized and lifted a sacrifice fly to center field and Katie Marino followed with a sacrifice fly to left to boost the score to 2-0 Notre Dame.  
In the top of the seventh, the Irish extended the lead to four with three hits and an error in order to later pick up the 4-0 win.
UNF's Morgan Blourne hurled her first complete game of the season and struck out two. Shortstop Kayla McGory recorded the lone hit for the Ospreys in game one.
In game two, it was a true pitchers duel as Notre Dame sent Katie Beriont to the mound while UNF had their ace Sydney Matzko.
In the first inning, Notre Dame's Morgan Reed connected for an RBI single to put the score at 1-0. To tie it up, UNF's Taylor Scott scored on a throwing error by Notre Dame. Matzko allowed one hit in the third but fielded a comebacker cleanly to get out of the inning.
Alexis Bazos lined an RBI single to left in the top of the fourth as the Fighting Irish took hold of the lead. During the top of the fifth, Caitlin Brooks hit a hard ground ball between the shortstop and third as McGory made a phenomenal backhand stop and fired the throw off balance to first for the out.
UNF threatened to score in the bottom of the fifth as they loaded the bases but Beriont got out of the inning on a groundout to the shortstop. The Irish sealed the deal in the top of the sixth with an RBI single by Ali Wester. The Ospreys were held hitless from then as the Irish grabbed a 3-1 victory.
The Ospreys head southwest to Clearwater, FL for a six game tournament starting on Friday against LIU Brooklyn at 4:15 p.m.
—
For more information or news tips, or if you see an error in this story or have any compliments or concerns, contact [email protected]