International Player Trades Basketball for a UNF Degree
Every UNF student has their own path that leads them to where they are today. Freshman Laith Zalloum's path started across the globe in Amman, Jordan. At the age of 13, Zalloum began his career of amateur basketball in Jordan.
"When I was thirteen, I was 6'2 and didn't know how to do a layup and went to the local basketball center. They took me in and taught me everything I know. I can't thank them enough," Zalloum said.
Throughout learning and playing the game of basketball, Zalloum tried to emulate his style similar to Hall of Fame Power forward, Charles Barkley, and New York Knicks center, Enes Kanter.
"I try to get as much rebounds as I can like Charles and I admire Kanter's relentlessness to go after the ball even if he gets beaten up," Zalloum said.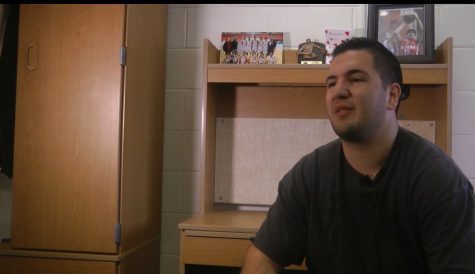 The 6'6 baller joined the Jordan National Team in 2014 at the age of 15 with a unique role.
"I was always the guy to hype my teammates up and I'd say (I've got your board). My main role was getting boards whenever my teammates put shots up," Zalloum said.
When asked about his greatest memory with the National team, Zalloum accomplished an unreal feat in his career.
"It was my first International team game, we were playing Iran and I had five blocks in a row. This was my fondest memory because it was my first," Zalloum said.
When Zalloum was 17 years old, he moved to Jacksonville and continued to play basketball at Trinity Christian Academy.
"When I came to America, I noticed that the game is played at a faster pace but I was ready because before I left for America, I trained with some of the best coaches in Jordan," Zalloum said.
Zalloum received offers after graduating high school from schools like Jacksonville University and smaller Division two and Division three schools. Ultimately, he chose to enroll at UNF for its academic prestige.
"I chose UNF because I'm very family oriented and I like being close to my family. Also, UNF is such a great academic place to be," Zalloum said.
After college Zalloum plans to play international basketball before going to law school.
—
For more information or news tips, or if you see an error in this story or have any compliments or concerns, contact [email protected]