Ospreys fall to Owls in three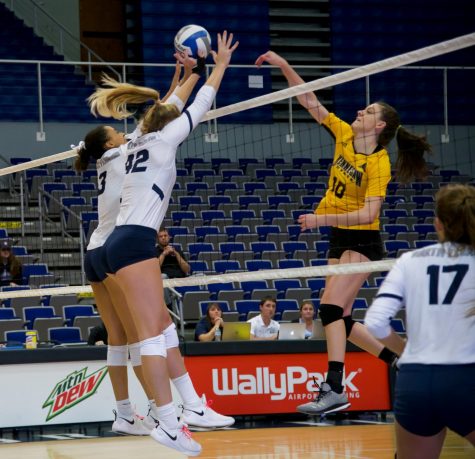 In an  ASUN matchup that impacted playoff seedings, North Florida's Volleyball team (9-19 Overall, 4-8 ASUN) struggled to upset the undefeated Kennesaw State Owls (20-4 Overall, 11-0 ASUN) at home.
In the opening set, Kennesaw State led the attack with 16 kills and posted a .312 hitting percentage. Their style of play forced the Ospreys on the defensive and held them to a .031 hitting percentage. The Owls took the first set, 25-17.
In the second set, the Owls continued their dominant attack increasing their kills to 17, while improving their hitting percentage. The Ospreys had answered back behind a spark from Redshirt-Sophomore Gabby O'Connell, who drilled in five kills during the set. Despite the effort, North Florida could not snatch a win from Kennesaw State and loss, 25-17.
In the third set, North Florida traded points with Kennesaw State. Throughout the set,  O'Connell led the attack for the Ospreys with five kills during the set. Sophomore Devyn Wheeler, Junior Taryn Griffey and Senior Alana Shoff chipped in with kills as well. Despite the spirited effort,  Kennesaw State answered back and held on to the lead to end the night early.
O'Connell led the team with kills and finished the night with 10 kills and seven digs. Senior Madilyn McCarty led the team with 23 assists and also posted seven digs, two kills and two blocks.
"We didn't execute very well," said Head Coach Kristen Wright. "I think we let our play dictate our mentality and that has to change in order to contend".
The Ospreys continue their ASUN push for playoffs and face Lipscomb on Oct. 27  at 6 p.m.
—
For more information or news tips, or if you see an error in this story or have any compliments or concerns, contact [email protected].