Cold Shooting Ospreys fall to Penn State
In the second game of the season, a rough night shooting spoiled the Ospreys (0-2 Overall) chance to upset the Penn State Nittany Lions (1-0 Overall).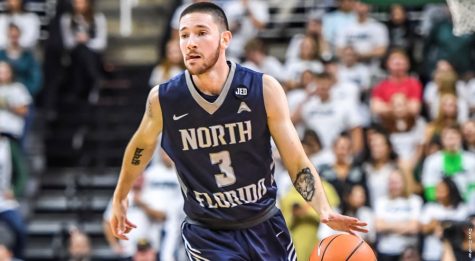 In the opening half, North Florida jumped out to an early lead before Penn State gathered their bearing and began to tighten their defense and come back. Although North Florida had owned the rebounds in the first half (24-16), Penn State would go on to hold the Ospreys to just 28 points and zero percent from the three-point line. The Nittany Lions went into halftime with a comfortable 40-28 lead over the Ospreys.
In the second half, the Ospreys faced an uphill battle as the Nittany Lions continued to pile on the points. North Florida did find some success from deep, as Junior Ezekiel Balogun nailed the first three point shot for the Ospreys. North Florida was able to improve their field goal and three-point percentage but it wasn't enough to close the gap that was created in the first half. North Florida would lose, 87-72.
Junior Garrett Sams led the Ospreys with 16 points and two rebounds, Junior Noah Horchler grabbed his second double-double of the season with 10 points and 10 rebounds and Junior Ezekiel Balogun provided a spark off the bench with 10 points and five rebounds.
North Florida will host their first home game of the season against Edward Waters on Nov. 14 at 7 p.m.
—
For more information or news tips, or if you see an error in this story or have any compliments or concerns, contact [email protected].