Ospreys win big over Eagles in home opener
As the kids piled in for Ozzie's Field Trip Day, the Ospreys (1-1) fed off their infectious energy and defeated the Trinity Baptist Eagles (0-1), 97-40 with six players scoring in double digits on Nov. 13.
The Ospreys were slicing through the Eagles defense as they recorded a 59.1 Field Goal percentage leading 29-17 in the first quarter. Juniors Adrienne Jackson and Janesha Green each recorded seven points in the first quarter. The Ospreys showed a strong post presence, outrebounding the Eagles, 16-5.
At the end of the first half, the Ospreys maintained a 48-29 lead. As the Eagles attempted to cut down the lead, the Ospreys would continue maintaining control of the ball by racking up rebounds. Jackson finished the half with 12 points and four rebounds. Freshman Lauren Gross came off the bench and recorded nine points while collecting six boards.
The third quarter was the runaway point in the game for the Ospreys, hitting 61 percent of their shots and having four players scoring in double digits (Emanuel-Wright, Jackson, Green, Gross). At the end of the third quarter, the Ospreys led 75-34.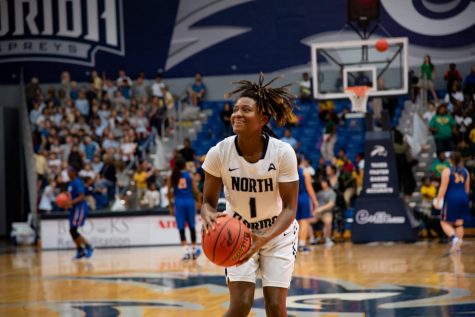 The Ospreys then piled on in the fourth quarter as they had a lopsided, 99-40 victory.  The bench scored 42 points in the game, more than the Eagles total. Jackson scored a career-high 21 with eight rebounds. Sophomore Rhetta Moore came off the bench and scored 17 in 11 minutes on the floor.
Coach Darrick Gibbs talked to the Spinnaker about the importance of the bench's performance in the game.
"It's great having that contribution off the bench, knowing that we have areas we can rely on for one game to next," Gibbs said. "You want to be able to go to that next person and them being able to step in and contribute whether it be scoring, rebounding, defending. Knowing that we have that balance is very encouraging."
After scoring a career-high 21 points, Jackson also talked to the Spinnaker about what got her going in the game.
"The energy, the kids, it's all about the kids. My ultimate goal was to get everybody involved and I feel like my goal was accomplished," Jackson said.
The Ospreys next matchup is Friday, Nov. 16 at home against FAMU at 7 p.m.
—
For more information or news tips, or if you see an error in this story or have any compliments or concerns, contact [email protected].